Looted Matisse Hoarded by Gurlitt Returns to Rosenbergs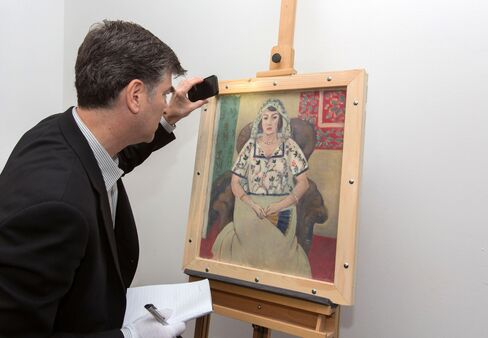 Henri Matisse's "Femme Assise," or "Seated Woman," was handed over to the heirs of 20th century French art dealer Paul Rosenberg, ending an 18-month struggle to reclaim the painting.
The masterpiece was received by Chris Marinello, a lawyer representing the Rosenbergs, in Munich on Friday, he said in a statement. It marks the first restitution from an art collection containing works stolen by the Nazis that was unearthed by chance in the Bavarian capital three years ago.
"We are delighted that 'Femme Assise' has now been returned and that we may count another step forward in recovering the works looted from Paul Rosenberg," Marinello said.
The 2012 discovery in the Munich apartment of art collector Cornelius Gurlitt revealed prints, paintings and sketches long given up as lost or destroyed under Adolf Hitler's rule. Gurlitt, a recluse who died a year ago, inherited the collection with an estimated value of more than 1 billion euros ($1.14 billion), including works by Pablo Picasso and Paul Gauguin, from his father Hildebrand. He was one of four dealers authorized by the Nazis to sell confiscated art abroad.
Rosenberg -- whose granddaughter is Anne Sinclair, the journalist and ex-wife of former International Monetary Fund Managing Director Dominique Strauss-Kahn -- was forced to leave his collection behind when he fled the regime.
Bequeathed Collection
Gurlitt's collection came to light in November 2013 in a Focus magazine story. A lawyer for the 81-year-old had agreed to return the Matisse to the Rosenberg family last year before a change in legal representation and Gurlitt's May 2014 death stymied that arrangement. Gurlitt bequeathed his collection to the Kunstmuseum Bern.
"It's been a rollercoaster," Marinello said in an interview. "There have been such highs and lows: finding the picture, working out an agreement with his lawyers, then the lawyers changed, a fraudulent third-party claim, then he died."
A Munich court agreed Tuesday to return both the Matisse and Max Liebermann's 'Two Riders on the Beach' to the heirs of their original owners. David Toren, a retired New York lawyer, had sued Germany for the return of the Liebermann, which he said was taken by the Nazis from his great uncle, David Friedmann.
Before it's here, it's on the Bloomberg Terminal.
LEARN MORE