Last Chance to Bet American Pharoah Is Now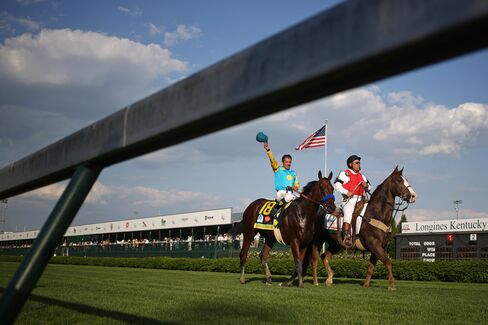 The smallest field in 15 years has assembled for the second leg of horseracing's Triple Crown, the Preakness Stakes.
This is no coincidence.
It's because the Kentucky Derby winner, American Pharoah, has scared off many of his would-be rivals. Only seven horses will line up against him Saturday.
So while the buzz in some circles of the gambling world is that Pharoah isn't the superhorse he was made out to be in the run-up to the Derby, the trainers of dozens of top three-year-old colts across America seem to disagree. By holding their charges out of the Preakness, they're effectively saying Pharoah's too much horse for them to take on right now.
I can't fault them. The Derby -- while not the smashing victory that Pharoah believers like me were envisioning -- did nothing to change my perception of him as a freakish talent.
It's true he was hard-ridden almost all the way around the track en route to a gut-wrenching, one-length victory, but those things really add to his resume rather than detract from it. This was a horse that was clearly a bit off his game (there were subtle signs from very early on that he wasn't happy), yet he managed to overcome that sluggishness and wear down his rivals in the stretch. It was a victory he earned, let's say, with a B-performance.
Maybe we get to see the colt's A game in Baltimore.
His trainer, Bob Baffert, has been raving about how he has rebounded from the stress of the Derby and seems confident he'll run big on Saturday. Baffert knows a thing or two about bringing a horse to Baltimore from Louisville. His three previous Derby winners all captured the Preakness too.
Betting Odds
Now I'm normally not one to condone betting on a big favorite, but here's the thing for Pharoah backers to consider: Saturday's race may be the last decent chance to wager on him for a while. If he wins the Preakness, he'll be an even bigger favorite three weeks later in the Belmont Stakes, a race that will actually provide tougher challenges.
And after that, he'll go back to California and disappear for a couple months. When he re-emerges, there's a good chance he'll show up against overmatched fields out west, offering gamblers only a chance to make pennies on each dollar bet.
Given all that, estimated odds of 4-5 (Bet $5 for a shot at winning $4) in the Preakness don't sound too bad. The Pharoah doubters out there will be keen to wager against him, helping create a bit of betting value for us believers.
Sure there are risks. A sluggish start from his inside post position could leave him stuck behind other horses for the first time in his career; he also may be more knocked out from his Derby effort two weeks ago than he's letting on during his energetic morning gallops; and his top two challengers, Firing Line and Dortmund, are legitimate stars in their own right.
But I see the race going like this: Pharoah charges out of the gate, goes straight to the lead and runs his seven rivals right off their feet. That ought to silence his critics.
(David Papadopoulos, managing editor for the Americas editing hub at Bloomberg News, has been following thoroughbred racing for more than two decades and was runner-up in 2008 Eclipse Award voting for feature writing on the sport.)
Before it's here, it's on the Bloomberg Terminal.
LEARN MORE