Irish Canvasses EU on Aer Lingus Takeover Before Sign-Off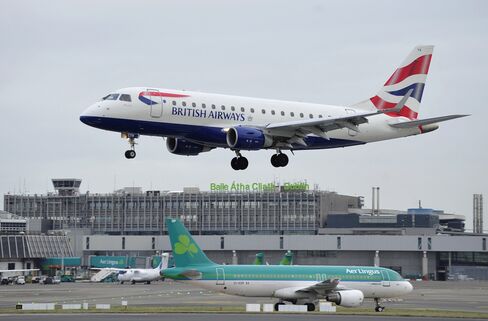 Ireland is canvassing European authorities for their initial views on a deal allowing the state to sell its stake in Aer Lingus Group Plc to IAG SA.
Discussions between Ireland and IAG continued after the government, which controls a 25 percent stake in Aer Lingus, rejected the airline's indicative bid in February. British Airways parent IAG is offering a guarantee on maintaining routes between Ireland and London for seven years, according to a person with knowledge of the matter, who asked not to be identified, as talks are continuing.
"In the context of its continued engagement with IAG on these issues there has been contact with the European Commission in light of their potential role in relation to any proposal," the Transport Ministry said in an e-mail response to questions. "At this point no deal has been agreed."
IAG needed to guarantee to keep routes between Ireland and London for longer than the five years it first proposed, Transport Minister Paschal Donohoe has said. Prime Minister Enda Kenny's cabinet will probably consider the IAG proposal the week starting May 25, the person said.
Donohoe hasn't yet received a final report from officials discussing a possible deal with IAG, he told reporters in Dublin on Thursday. IAG has agreed to give the Irish veto over the sale of Aer Lingus slots at Heathrow.
While a formal EU review wouldn't take place until IAG filed a formal offer, the government wants to ensure guarantees won't give rise to antitrust issues, the person said.
IAG is bidding 2.50 euros a share plus a 5 cents cash dividend. Aer Lingus rose 1.3 percent to 2.40 euros in Dublin.
IAG declined to comment, as did the European Commission.
Before it's here, it's on the Bloomberg Terminal.
LEARN MORE