India Said to Consider Reviewing All Remaining Tax Disputes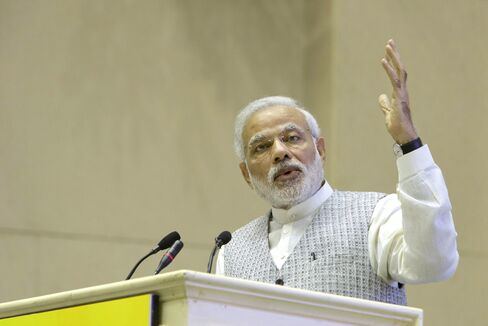 A panel formed by India to examine back taxes on capital gains by foreign funds may look at all legacy tax disputes, including one involving Vodafone Group Plc, said a government official with knowledge of the matter.
The terms of reference of the panel, headed by former justice AP Shah, will be announced by next week, the official said, asking not to be identified before a formal decision. The panel will be asked to make recommendations in three months, the official said.
DS Malik, a finance ministry spokesman, couldn't be immediately reached for comment.
India formed the panel earlier this month to defuse a row that had dented sentiment toward the stock and bond markets. A dispute flared last month with foreign portfolio investors over demands for $95 million on past capital gains.
Prime Minister Narendra Modi's administration has said it wants to clear up legacy tax issues and implement a predictable tax regime for investors.
Aside from Minimum Alternative Tax cases, it hasn't been decided yet which other matters the panel will look into, the official said.
Indian authorities in January said they wouldn't appeal a court ruling that sided with Vodafone in a tax dispute over the way it reported a transfer of shares between its business in India and another unit.
Vodafone is also seeking international arbitration to resolve a separate tax dispute exceeding $2 billion over its 2007 acquisition of Hutchison Whampoa Ltd.'s Indian business.
Before it's here, it's on the Bloomberg Terminal.
LEARN MORE