CORRECT: India's Gold Imports Total 85 Tons in April, Das Says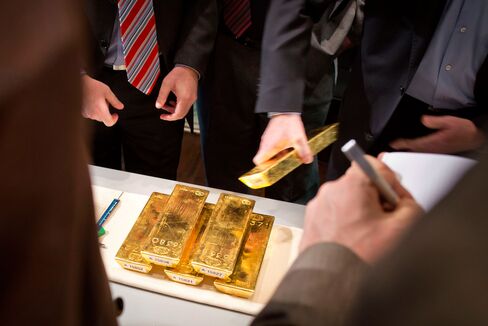 India, the world's second-largest gold consumer, imported 85 metric tons of gold in April, Revenue Secretary Shaktikanta Das said.
Shipments have totaled about 60 tons so far in May, Das said in an interview in New Delhi on Friday. Purchases jumped 78 percent in value terms to $3.13 billion in April from a year earlier, the Commerce Ministry said in an e-mailed statement on Friday. Imports in March more than doubled to 125 tons from a year earlier, according to the Finance Ministry.
India is set to become the world's top consumer this year as economic growth accelerates and China's booming equity markets reduce the appeal of bullion, according to P.R. Somasundaram, the World Gold Council's managing director in India. A 42 percent rebound in crude oil prices from a six-year low in March and rising gold imports pose a threat to India's current-account deficit as the country imports about 80 percent of its oil needs and almost all its bullion.
"Crude is a more important component of our imports and its prices going up will be a greater worry than gold," said Dharmakirti Joshi, chief economist at Crisil Ltd. in Mumbai. "I don't think the government will take any new steps to control gold imports now."
Gold demand slowed last year after the government raised import tax three times in 2013 to 10 percent and linked inbound shipments to re-exports to contain a record current-account deficit. The restrictions were withdrawn in November after the deficit narrowed. Only the import tax remains.
Bridal Trousseau
Consumption will rise to between 900 tons and 1,000 tons this year, Somasundaram estimates. Gold is bought during festivals and marriages as part of the bridal trousseau or given as a gift in the form of jewelry.
Shipments into India totaled 891.5 tons last year to meet demand of 811.1 tons, the council estimates. Jewelry sales surged 22 percent to 150.8 tons in the first quarter from a year earlier, while imports increased 28 percent to 226.9 tons, the council said on Thursday.
Bullion for immediate delivery in London traded at $1,215.18 an ounce on Friday, heading for the biggest weekly advance since Jan. 16. Futures on the Multi Commodity Exchange of India Ltd. were at 27,332 rupees per 10 grams ($1,338.85 an ounce), poised for a second weekly advance.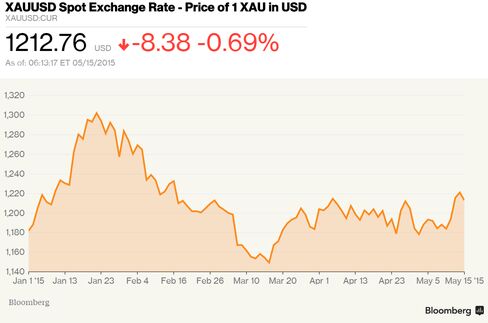 (Official corrects import data for April in headline, paragraphs one and two.)
Before it's here, it's on the Bloomberg Terminal.
LEARN MORE