FAO Schwarz's Manhattan Store to Close in July as Rents Rise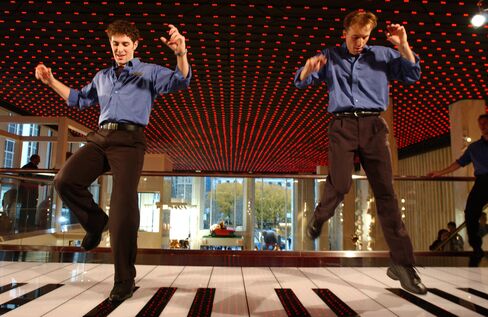 The FAO Schwarz toy store in midtown Manhattan will close in July because of rising rents, leaving the 153-year-old brand without a retail outlet.
Toys "R" Us Inc., which owns the store in the heart of Fifth Avenue across from the Plaza Hotel, said it's looking for another Manhattan location for the shop. A new outlet could open in late 2016, a person familiar with the situation said.
While the company seeks another location, a line of toys bearing the FAO Schwarz name still will be sold in Toys "R" Us stores and online. The company also is trying to find jobs for the store's 200 employees at its other shops in the region after the July 15 closing.
"The company is committed to the FAO Schwarz brand and growing its legacy," Toys "R" Us said in an e-mailed statement. "While we are sad to say goodbye to our current location, we are excited about the opportunity to create a new flagship location in New York City that will no doubt delight generations of children to come."
The store, which opened in the General Motors Building almost three decades ago, grew in popularity after being featured in the 1988 hit film "Big" when actors Tom Hanks and Robert Loggia danced on a giant toy piano spread across the floor. The store eventually turned that into an attraction, allowing kids to play on it.
FAO Schwarz got its start in 1862 and has moved several times since then, including a stop in Manhattan's Union Square. Toys "R" Us purchased FAO Schwarz in 2009. At the time, it had a store in Las Vegas that was in the process of closing when Toys "R" Us made the acquisition.
Stores Migrating
Entertainment-oriented family stores have been migrating from Fifth Avenue toward Times Square for several years, said Faith Hope Consolo, chairman of retail brokerage at Douglas Elliman Real Estate. Consolo was one of the brokers who represented the space that FAO Schwarz occupied across the street before it moved to the GM Building in 1986. Bergdorf Goodman occupies that space now.
"It's a sign of the times," she said. "It's very exciting for Fifth Avenue. We're going to get a new retailer, so we can all spend more money."
Toys "R" Us has been considering leaving the building, which is operated and majority owned by Boston Properties Inc., for more than a year and a half. The retailer hired brokers at CBRE Group Inc. to explore subleasing the space before the rental agreement expires in early 2017.
'Economically Viable'
Boston Properties President Douglas Linde said at a real estate conference in 2008, when the company bought the building, that the store was "probably not the most economically viable" tenant long-term for the space and probably would leave.
"In working with the property owner, the company was able to agree on an early exit in advance of the 2017 lease expiration, providing the opportunity to realize meaningful rent savings," Toys "R" Us said.
Retail rents along Fifth Avenue from 49th to 60th Streets are the highest in the world, averaging $3,500 per square foot for ground-floor space, according to a November report by brokerage Cushman & Wakefield. FAO Schwarz is next to Apple Inc.'s "Cube" store, one of the world's most successful retail outlets.
Times Square
Toys "R" Us is considering moving FAO Schwarz into the below-ground space at 1633 Broadway, a 48-story skyscraper at Broadway and West 50th Street, just north of Times Square, Crain's New York Business reported last week. A Toys "R" Us spokeswoman declined to comment. Peter Brindley, senior vice president of leasing at Paramount Group Inc., which owns the tower, didn't immediately return a phone call.
That move would be positive for FAO Schwarz, Consolo said. The 1633 Broadway location is a"mirror image" of the GM Building, featuring a large front plaza where the store could create a dramatic entrance, similar to Apple's cube, she said.
Being without a physical store for more than a year won't hurt the brand long-term either, Consolo said.
"They're not going to die," she said. "When they open up, everybody will come back."
The space Schwarz is leaving, which stretches to the back of the building on Madison Avenue, could either be subdivided or offered as rare opportunity for a merchant to have a large Fifth Avenue store, said John Powers, regional manager for Boston Properties' New York operations.
"We obviously have a plan, and we expect to take several steps to improve that whole retail area," he said.
The move comes as Toys "R" Us continues cutting costs while also trying to revive sales growth at its stores. It was taken private by Bain Capital Partners, KKR & Co. and Vornado Realty Trust a decade ago.
Before it's here, it's on the Bloomberg Terminal.
LEARN MORE