Even the FBI Had Concerns About License Plate Readers
Leaked e-mails show the FBI stopped purchasing the devices—at least temporarily—in 2012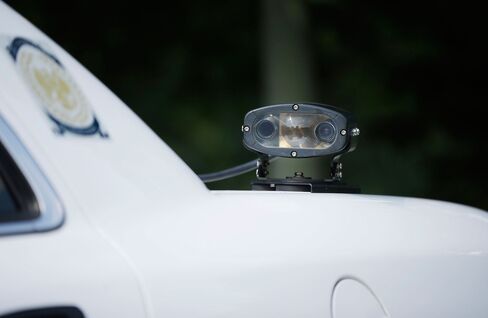 License plate reading devices already have a notorious reputation among U.S. privacy activists. It turns out that even Federal Bureau of Investigation officials have concerns about how license plate readers could violate constitutional protections.
Newly released documents obtained by the American Civil Liberties Union indicate a debate within the FBI over the legality of collecting license plate data. A heavily redacted e-mail written by a senior vice president at Elsag North America, a major producer of the devices, indicates that the Office of General Counsel—or OGC, an internal legal advisory division within the FBI—"is still wrestling with [license plate recognition] privacy issues." The executive notes that the FBI at that time had "stopped [the bureau's] purchase" of the cameras "based on advice from the OGC."
License plate readers use optical character recognition to identify vehicle information. The devices can be used to collect tolls and monitor traffic patterns—as well as track where cars travel and photograph who is behind the wheel. Elsag's website describes the company's ability to aid "law enforcement with public safety solutions and vehicle-related crimes by reading 1,800 license plates a minute."
An FBI spokesman, Chris Allen, said agents use license plate readers "in fully predicated investigations only" and that FBI usage "comports with guidance that we receive regarding privacy issues." Allen confirmed that license plate readers are still in use by the FBI.
The messages obtained by the ACLU indicate the FBI lends out the readers to local police forces. "The program is still growing and we enjoy tremendous field support," the e-mail from the Elsag executive states. No further information is revealed about whether the program continued. Elsag didn't immediately respond to questions on Friday.
License plate readers have been used by local police departments to take detailed surveillance information. In 2012, a California man's public record request indicated that police in San Leandro, Calif., had photographed his cars on 112 occasions. On one instance, the man's daughters were photographed in his driveway, according to the Center for Investigative Reporting. Earlier this month the ACLU sued the Fairfax County Police Department over license plate reader images collected of a Virginia man who was not the target of a criminal investigation.
An earlier record request by the ACLU disclosed that the FBI had used license plate readers in 2012 to track activists in the Occupy movement. In March, meanwhile, The Intercept found that the devices had been used to track a BlackLivesMatter protest at the Mall of America in Bloomington, Minn. A report in the Wall Street Journal earlier this year revealed a nationwide Drug Enforcement Administration license-plate tracking program designed to combat drug trafficking and other crimes.
(Updated with comments from the FBI.)
Before it's here, it's on the Bloomberg Terminal.
LEARN MORE