European Bonds Rise as BNP to SocGen See Slump Ending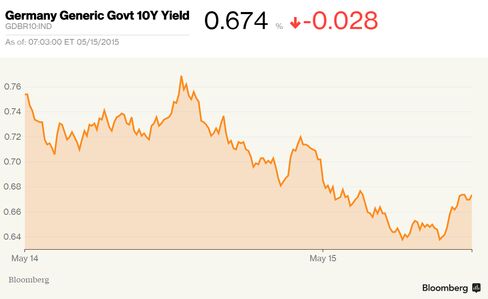 Euro-area government bonds from Italy to Spain advanced for a second day as some of the region's biggest banks said a global selloff in fixed-income markets may be waning.
German 10-year bunds, the region's benchmark sovereign securities, pared a fourth weekly drop which would be the longest run since June 2012. BNP Paribas SA said the slump is nearing its end, while Societe Generale SA said higher-yielding euro-area debt will retrace much of its losses.
"The selloff should be approaching its end," BNP Paribas analysts led by London-based Laurence Mutkin wrote in an e-mailed report. "We expect vulnerability in the near term, and a more positive tone by the end of May or early June."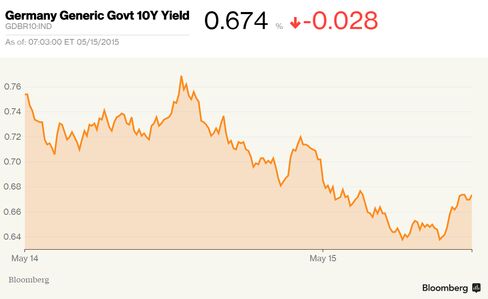 Germany's 10-year bund yield fell six basis points, or 0.06 percentage point, to 0.64 percent at 4:30 p.m. London time, trimming this week's increase to nine basis points. The yield has surged from a record-low 0.049 percent set on April 17. The 0.5 percent security due in February 2025 rose 0.59, or 5.90 euros per 1,000-euro ($1,133) face amount, to 98.695.
Buying will pick up in longer-dated euro-area bonds, Societe Generale forecast. Securities due in 10 years and more lost 9.4 percent since the end of March through Thursday, according to a Bank of America Merrill Lynch index.
"We doubt the ECB will find as many sellers at the higher level of yields now achieved," Global Head of Rates and Currency Strategy Vincent Chaigneau wrote in a report to clients. "The selling will ease and probably partially reverse."
'Selling Pressure'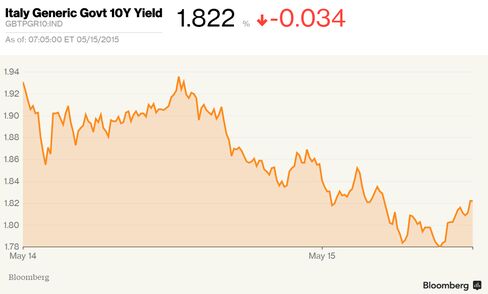 Italy's 10-year bond yield fell six basis points to 1.79 percent. The yield on similar-maturity Spanish debt declined nine basis points to 1.75 percent.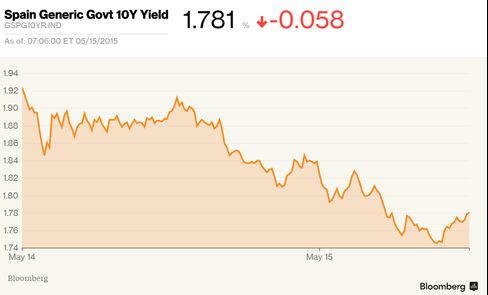 Nordea Bank AB disagreed with France's two biggest banks, saying it's too early to call the end of the slump, which wiped more than $600 billion off the value of global fixed-income markets in about three weeks.
"There are many that are preparing to retake long positions and push yields lower again, but for now it would be too early," said Jan von Gerich, chief strategist at Nordea in Helsinki. "Every time you see signs of a stabilization, the selling pressure returns."
The value of the world's fixed-income markets was $45.27 trillion on Thursday from $45.67 trillion on April 29, a Bank of America Merrill Lynch index shows. The value fell to as low as $45.04 trillion on May 11.
Despite a rally in euro-area bonds, the average yield across the region climbed to 84 basis points on Thursday, indexes show. That's almost double its record low of 0.43 percent, reached two months earlier.
Before it's here, it's on the Bloomberg Terminal.
LEARN MORE