Dollar Snaps Three-Day Decline as Bond Rout Easing Tempts Buyers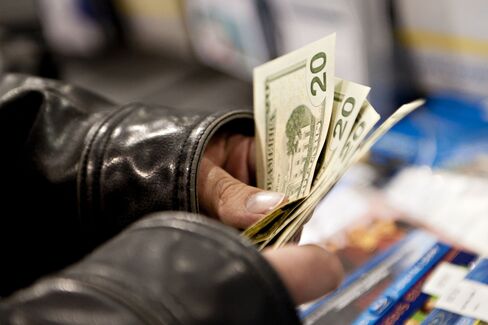 The dollar rebounded as a global bond rout waned, giving investors more confidence to buy U.S. assets.
The Bloomberg Dollar Spot Index snapped a three-day loss, bouncing from the lowest in almost four months Thursday. The greenback strengthened against almost all of its major peers and surged versus the yen after the Bank of Japan was said to view cutting the interest rate on banks' reserves as a future policy option.
"The market still likes the U.S. dollar," Shaun Osborne, head of global foreign-exchange strategy at Toronto-Dominion Bank, said by phone. "People are still looking for opportunities to buy U.S. dollars in the belief that that the economy will pick up."
Bloomberg's dollar index, which tracks the greenback versus 10 major trading partners, gained 0.5 percent to 1,155.94 at 9:24 a.m. New York time, paring this week's decline to 0.6 percent. The index fell to 1,149.32 on Thursday, the lowest level since Jan. 21. The U.S. currency rose 0.6 percent to 119.85 yen, its largest gain in two weeks.
The last time the dollar gauge fell for five weeks was in the period through Oct. 4, 2013, during a stalemate between congressional Republicans and Democrats over raising the federal debt ceiling.
ECB Easing
Having touched $1.1445 on Thursday, the weakest level since Feb. 19, the dollar strengthened 0.5 percent to $1.1355 per euro on Friday.
The euro was weighed down by comments by European Central Bank President Mario Draghi, who reiterated on Thursday that the central bank will carry on with its 1.1 trillion-euro ($1.25 trillion) quantitative-easing plan "in full."
There is still a "perception the Federal Reserve will be hiking interest rates at a time when the ECB will still be loosening monetary policy," said Jane Foley, a foreign-exchange strategist at Rabobank International in London. "That contrast is still there, albeit in a watered-down form, so the dollar bulls will come back."
A narrowing yield differential between German and U.S. government bonds in the recent selloff had pushed the dollar weaker against the euro. The yield gap was little changed on Friday at 1.53 percentage points, from as much as 1.9 points in March, as German and U.S. securities both rose for a second day.
The surge in European yields that began last month outpaced increases in the U.S., spurring appetite for euros this week.
"Movements in bond yields have been a fairly dominant force in euro-dollar," Rabobank's Foley said. Some of the volatility could be attributed to "position adjustments," while the fundamentals that drew the euro lower versus the dollar were still intact, Foley said.
The dollar pared gains after New York's Empire State Manufacturing Survey gave a reading of 3.09, The gauge of business conditions missed the median estimate of 5. That was followed by data showing factory production stalled in April, as American manufacturers were dealt blows by a strong dollar and cheap oil.
"The long-USD trade requires a pickup in U.S. data," analysts at Morgan Stanley, including Evan Brown in New York, wrote in a note to clients, referring to bets the dollar will strengthen. "Until this happens, USD is vulnerable to further downward correction."
Before it's here, it's on the Bloomberg Terminal.
LEARN MORE