Bullets, Syphilis and Accidents Map U.S. Geography of Odd Deaths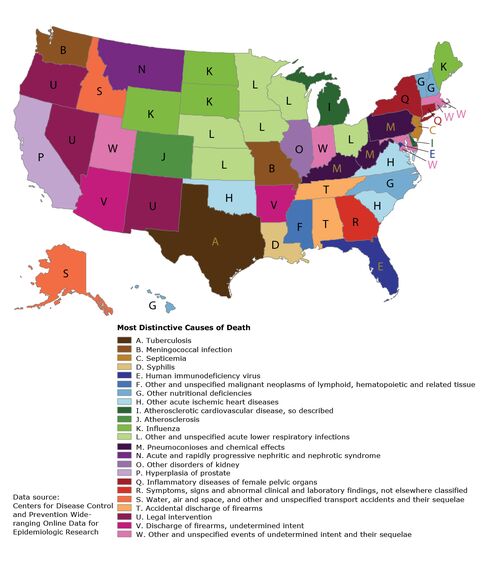 You're more likely to be shot by accident and die in Alabama than anywhere else in the U.S.
Further west in Louisiana, it's syphilis. Think you'll escape the clutches of strange death further north? Septicemia, a bloodstream infection, claimed more lives per person in New Jersey than any other state.
That's according to a report published Thursday by the Centers for Disease Control and Prevention, showing the most distinct causes of death in each state from 2001 to 2010. Using a list of 136 ways to go, each state is labeled with a cause of death that was higher on average than the rest of the U.S.
"We usually look at what is most common, heart disease and cancer," Francis Boscoe, a researcher at the New York State Cancer Registry and the study's lead author, said in an e-mail. "To best understand our mortality we need these finer causes of deaths, and for them to be coded in as standard of a way as possible."
The map glimpses at less-discussed causes of death. Without killers like cancer and heart disease, things start to look a little weird. In Alaska and Idaho, air and water accidents were the most distinct cause of death. Flu claimed more lives in northern states like Maine and South Dakota than anywhere else.
Some of the unusual ways to kick the bucket were due to occupational hazards. In the coal-mining states of Kentucky, West Virginia, and Pennsylvania, black lung disease, or pneumoconiosis, and chemical effects stood out.
In New York and neighboring Connecticut, female pelvic inflammatory diseases top the list. In women who get sexually transmitted diseases such as chlamydia and gonorrhea, the infections can spread when untreated, causing death in some cases.
Controversial Deaths
Other causes of death venture into controversial territory, during a national conversation about the use of deadly force by police. In Nevada, Oregon and New Mexico, the most distinct cause of death was "legal intervention." Along with executions, it includes "any injury sustained as a result of an encounter with any law enforcement official," whether on-duty or off-duty.
Many of the causes of death listed on the map are extremely rare. In 22 states, the total number of deaths was less than 100. It's also based on death certificates, for which there's no national standard on cause-of-death coding nationwide, which could skew the results. The causes of death come the World Health Organization's International Classification of Diseases system.
In Maryland, Utah and three other states, the most distinct cause of death was "other and unspecified events."
"This map highlights the fact that coding standards are not being uniformly applied, and that we can probably do better in some cases," Boscoe said.
Before it's here, it's on the Bloomberg Terminal.
LEARN MORE