Brady Redemption Won't Take as Long as A-Rod, Rose: Sports Line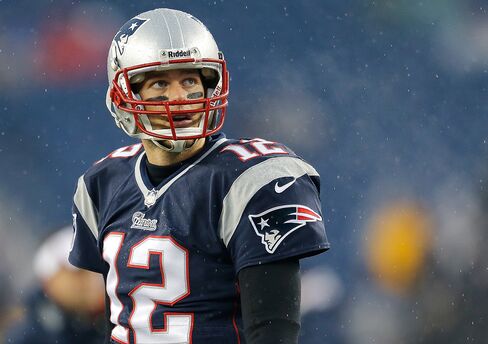 It's appropriate that in a sports week dominated by Tom Brady's four-game NFL suspension for cheating, three other prominent athletes -- all baseball players -- are getting notice as they chase redemption.
Most prominent is New York Yankees designated hitter Alex Rodriguez, who is among the American League leaders with eight home runs after missing the entire 2014 season due to a doping suspension.
After more than a year of battling the Yankees and Major League Baseball officials in and out of court, Rodriguez has dealt well with boos and the team's refusal to pay him a $6 million bonus for catching Willie Mays and moving into fourth place on the career home run list. (Maybe that's just pocket change for a guy who has earned more than $378 million on the field.)
The guy at the top of the home run list, Barry Bonds, is also having a good spring. A federal appeals court last month set aside his 2011 conviction for obstructing justice in a probe of athletes' steroid use. This week, Bonds was inducted into the Bay Area Sports Hall of Fame.
Baseball's hits leader, Pete Rose, made his debut as a TV studio analyst this week and MLB Commissioner Rob Manfred has said he would consider his latest reinstatement request. Rose, 74, who received a lifetime ban in 1989 for betting on baseball, will be allowed to attend this year's All-Star Game in Cincinnati, where he played for the Reds for 19 seasons and managed them from 1984-89.
While all three baseball players have traveled long paths in their return from disgrace, Brady's taint probably will disappear as soon as he resumes throwing touchdown passes this fall.
That leaves many ethical questions unanswered, such as whether Brady received the proper punishment for not fully cooperating with the NFL probe into the New England Patriots' underinflated footballs -- and whether cheating is worse than using drugs or gambling on your sport.
The NFL also is left grappling with fallout from its botched handling of several players' domestic-abuse cases last year.
Corinne Farneti, an assistant professor of sport management at Maryland's Mount St. Mary's University, said the Brady punishment must be compared to the original two-game suspension last year of Ray Rice for beating up his fiancee.
"Does the fact that it was double Ray Rice's suspension show what the NFL deems more important?" Farneti asked in an e-mail to Sports Line. "Is cheating in a game more sacrilegious than beating a woman? Perhaps the integrity of the game is valued more than off-field behavior."
***
Tickets for Saturday's National Hockey League Eastern Conference-championship opener at New York's Madison Square Garden between the Rangers and Tampa Bay Lightning are going for an average of $883, according to resale market aggregator TiqIQ.
The average home ticket price for the four possible games at MSG is $1,261, more than three times the $388 average for the three games in Tampa. The overall series average of $881 would rank second in the last five years for the Eastern finals, trailing only last year's matchup between the Rangers and Montreal Canadiens ($952).
***
Rory McIlroy celebrated his 26th birthday last week by winning the World Golf Championships match play tournament in San Francisco, solidifying his position as the No. 1 player in the Official World Golf Ranking.
McIlroy was the youngest to reach $10 million in career earnings on the PGA Tour (he did that in 2012 and is now at $26 million) and joined Jack Nicklaus and Tiger Woods as the only golfers to win three major titles by the age of 25.
The player right behind McIlroy in the rankings, Masters champion Jordan Spieth, doesn't turn 22 until July.
"It just seems like our generation are better equipped and more ready to win at the highest level at a younger age," McIlroy told reporters in San Francisco. "There's a lot more knowledge in the game now. People have a better understanding of the swing, of fitness, all that side of it.
''That knowledge, you can put that on a 14- or 15-year-old kid, and they practice hard enough and work hard enough, by the time they are 18, 19 they are ready to come out here and play.''
***
The Pac-12 conference has produced five of the 30 managers in Major League Baseball, the most of any college league, according to Bill Arnold of the Sports Features Group.
The Cleveland Indians' Terry Francona and Arizona Diamondbacks' Chip Hale went to Arizona; the Oakland Athletics' Bob Melvin and the Cincinnati Reds' Bryan Price are California alumni, and the Houston Astros' A.J. Hinch attended Stanford.
The Pac-12 also could claim the Milwaukee Brewers' Ron Roenicke (UCLA) until he got fired last week and was replaced by Craig Counsell, a Notre Dame alum.
The next most popular conference for managers is the Big Ten with four, including Northwestern graduate Joe Girardi of the New York Yankees.
The Ivy League has one; the Detroit Tigers' Brad Ausmus went to Dartmouth.
***
The Detroit Tigers' 2-1 loss in 10 innings to the Kansas City Royals on Sunday left the New York Mets as the only major league team that hasn't played an extra-inning game this season.
And maybe that's a good thing, since the Mets have played three of the eight longest games in MLB history (in terms of innings): 23 innings against the San Francisco Giants in 1964; 24 innings against the Houston Astros in 1968, and 25 innings against the St. Louis Cardinals in 1974.
The Mets lost all three of those games.
***
-Baseball Hall of Famer Wade Boggs will be among the participants today in the 17th annual Manhattan Cup, a charity event held by the Fishermen's Conservation Association. It is Manhattan's only fishing contest, and calls itself the largest catch-and-release tournament in the northeastern U.S.
-Rafael Nadal's loss to Andy Murray in Sunday's final of the Madrid clay-court tournament dropped the Spaniard out of the top five in the world tennis rankings for the first time since May 2005. Nadal, who will be seeking his 10th French Open title starting May 24 and who has almost $73 million in career winnings, fell to No. 7 in the rankings -- ending a run of 522 straight weeks in the top five.
-Coco Crisp of the Oakland Athletics had an infield single Wednesday against the Boston Red Sox, ending a streak of 39 consecutive hitless at-bats -- one short of the team record of 40 set by Jose Canseco in 1986.
-Golf will make its Pan American Games debut this July in Toronto, the first Olympic-related competition for golfers in more than a century. Golf is set to return at the 2016 Rio Summer Games after not being in the Olympics since 1904.
-The 2018 Rugby World Cup Sevens men's tournament will be held in northern California, with matches to be played at San Francisco's AT&T Park (home of baseball's Giants) and Avaya Stadium in San Jose (home of soccer's Earthquakes). It will be the first time the U.S. has hosted the tournament, and the American team will be seeking its first semifinal spot.
Before it's here, it's on the Bloomberg Terminal.
LEARN MORE