Bin Laden Lieutenant Gets Life in Prison for Aiding Plots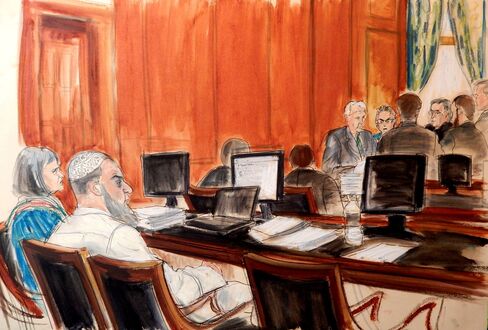 A former high-ranking aide to Osama bin Laden was sentenced to life in prison for conspiring in the 1998 bombings of U.S. embassies in Africa that killed 224 people and injured thousands.
Khaled al-Fawwaz, 52, a Saudi listed as No. 9 on an al-Qaeda membership roster found in Afghanistan, confronted some two dozen victims and their families in Manhattan federal court on Friday just before he was sentenced.
"I can't find words to describe how sorry I am for all the tragic violence that occurred," said al-Fawwaz, a stocky man wearing black prison fatigues. "I did not support violence. I never intended for any of my activities to contribute to it. My goal was reform."
Among those killed in the near-simultaneous bombings in Nairobi, Kenya, and Dar es Salaam, Tanzania, on Aug. 7, 1998, were 12 U.S. citizens. While al-Fawwaz didn't participate directly in the attacks, jurors found he joined a decade-long al-Qaeda plot to target Americans and U.S. installations around the world and helped bin Laden's network establish itself and pull off the assaults.
"The people I knew never engaged in violence," al-Fawwaz said in court. "I hope our God provides you with peace and comfort."
'All In'
U.S. District Judge Lewis Kaplan rejected al-Fawwaz's bid for a term of less than life in prison or for credit for the 14 years he spent fighting extradition from the U.K., where he was imprisoned soon after the attack. The U.S. said he ran al-Qaeda's London office, helped disseminate bin Laden's message to the media, ran a training camp and established a terror cell.
"You were committed to instilling terror," Kaplan said. "You were all in, long before the embassy bombings. I'm entirely convinced that you believe that bin Laden's end was so important that the means -- the terror and the violence -- were justified."
Several victims stood to face al-Fawwaz before Kaplan sentenced him. Ellen Karas, a U.S. Commerce Department employee at the Nairobi embassy who was blinded in the attack, said the last thing she ever saw was a colleague peering out a window after terrorists threw stun grenades. A truck bomb then exploded. Blinded, she's had 44 surgeries.
"I worship the same God you worship," Karas said. "But my God is not a vengeful or angry God."
Both Killed
Edith Bartley's father, Counsel General Julian Bartley Sr., and her brother, Julian Jr., were both killed in the Nairobi attacks. She's spent almost 17 years advocating on behalf of the victims.
"You are a travesty," she told al-Fawwaz.
Al-Fawwaz was brought to New York in 2012. His lawyers said he'd rejected bin Laden's call for violence and distanced himself from the al-Qaeda leader while serving as head of a London-based group called the Advice and Reform Committee, which sought change in Saudi Arabia.
He was convicted of four plots including scheming to kill Americans.
The case is U.S. v. al-Fawwaz, 98-cr-01023, U.S. District Court, Southern District of New York (Manhattan).
Before it's here, it's on the Bloomberg Terminal.
LEARN MORE