Baupost Buys Pioneer Natural Before Einhorn Slammed Fracker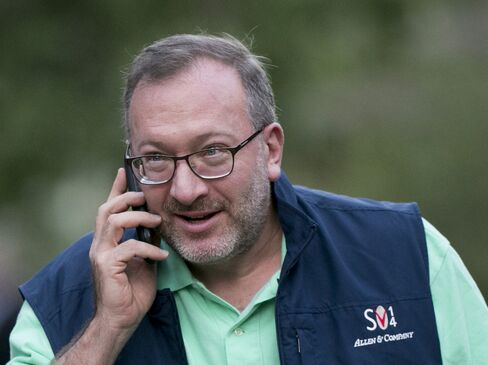 Billionaire investors Seth Klarman and Stan Druckenmiller took new stakes in Pioneer Natural Resources Co. in the first quarter, before hedge fund manager David Einhorn slammed the fracking company this month as being overvalued.
Klarman's Baupost Group bought shares of Pioneer valued at $517.8 million at the end of March, according to a regulatory filing, helping to lift the value of its publicly-disclosed energy holdings by $678 million. Druckenmiller's Duquesne Family Office took a $36.7 million stake in the oil and gas producer.
The investors, both renowned for their long-term track records, are betting on energy stocks including fracking companies such as Pioneer, after their prices tumbled along with oil. Their bullishness on the industry isn't shared by Greenlight Capital's Einhorn, who has slammed the shale drilling industry that ushered in a new era of U.S. oil production as wasteful, expensive and a terrible investment.
"Pioneer burns cash and isn't growing," Einhorn said at the Sohn Investment Conference in New York on May 4. "Why is the market paying $27 billion for this company?" He referred to the Irving, Texas-based company as the "mother fracker."
Klarman, Druckenmiller
Money managers who oversee more than $100 million in equities in the U.S. must file a Form 13F within 45 days of each quarter's end to list those stocks as well as options and convertible bonds. Because of that time lag, it's possible that the firms have since changed their positions. The filings also don't show non-U.S. securities, holdings that aren't publicly traded, or cash.
Klarman has been picking up energy stocks on the cheap since the end of last year, when Baupost added to positions in Cheniere Energy Inc., Antero Resources Corp. and others. Baupost added 1.5 million Antero shares this year, bringing its stake to 9.35 million shares valued at $330.2 million. It also acquired 3.74 million shares in Bellatrix Exploration Ltd., giving it 21.8 million shares valued at $53.1 million.
Druckenmiller's Duquesne bought shares of energy companies and sold retail stocks in the first quarter as the billionaire anticipates oil prices will rise by next year. The former chief strategist for George Soros purchased 561,600 shares of natural gas and crude oil producer EOG Resources Inc. valued at $51.5 million at the end of March.
Loeb Cuts
Dan Loeb's Third Point, which was among buyers of energy stocks in the fourth quarter, reduced its holdings at the start of the year. The New York firm, which had bought 5 million shares of Phillips 66 in the previous quarter, decreased its stake by 1 million shares, leaving it with a holding valued at $314.4 million. Loeb exited an $82.5 million stake in Anadarko Petroleum Corp. and a $179.8 million investment in Williams Cos.
Adage Capital Management, founded by two former money managers at Harvard University's endowment, exited several energy companies, including a $51.4 million stake in Enbridge Inc., a $47.3 million stake in PDC Energy Inc., and a $17.7 million stake in Antero. The firm, which like Baupost is based in Boston, reduced stakes in Cheniere Energy Inc., Valero Energy Corp. and Anadarko.
Einhorn, who manages about $12 billion as president of Greenlight Capital, said investors who are bullish on oil prices should avoid buying stock in producers and instead invest in the commodity itself.
Oil, which had fallen for nine months from the middle of last year through mid-March, has since risen by about a third. Pioneer rose 1 percent to $154.69 at 1:27 p.m. in New York today. It's still down 1.1 percent since oil bottomed on March 17.
Before it's here, it's on the Bloomberg Terminal.
LEARN MORE