Bank of Korea Holds Its Key Rate as Household Debt Rises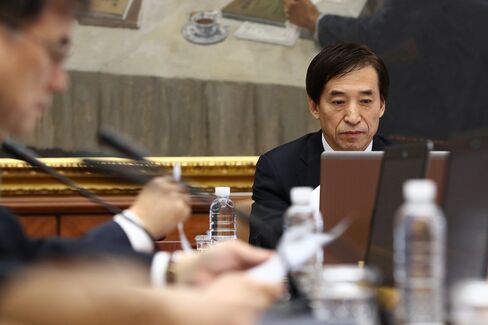 The Bank of Korea held its key interest rate unchanged at a record low as policy makers weigh signs of a pick up in domestic demand against rising consumer debt and a slump in exports.
The central bank kept the seven-day repurchase rate at 1.75 percent on Friday, as forecast by 16 of 19 analysts surveyed by Bloomberg. Three had expected a cut to 1.5 percent.
The BOK has held fire since March, with Governor Lee Ju Yeol citing rising debt as a key reason the bank didn't act today. Past rate cuts are having an impact and sentiment is improving, according to the governor.
"Lee said clearly that sluggish exports are mainly due to structural factors and that he is concerned about the speed of the increase in household debt," said Shin Hong Sup, a Seoul-based fixed-income analyst at Samsung Securities Co. "This lessens the urgency for a rate cut, and I expect the BOK to remain on hold for the year."
Bank lending to households rose by a record amount to an unprecedented 535.6 trillion won ($493 billion) in April, according to central bank data released on Thursday. The 8.7 trillion won increase since March was the most in comparable data back to 2008.
"Household debt was an important factor to consider," Lee told reporters after the decision. Debt is rising quite fast, although it's not at a level where we can't manage, he said.
Yields Rebound
South Korea's government bond yields rebounded from record-lows reached last month as rate-cut speculation weakened and a global debt rout drove down prices. The yield on three-year debt increased 20 basis points from the unprecedented low on April 17 to 1.91 percent as of 1:09 p.m. in Seoul on Thursday, according to Korea Exchange prices.
The won appreciated 0.4 percent versus the dollar to 1,086.43, taking this quarter's gain to 2.1 percent, data compiled by Bloomberg show. The currency's strengthened 1.5 percent versus the yen this quarter.
"Lee left the door open for another cut, but only if growth significantly trails the bank's projections," said Park Jong Youn, a Seoul-based fixed-income analyst for NH Investment & Securities Co. "Lee was more confident about the bank's growth projection today, which strengthens our view that the interest rate will stay unchanged for the rest of this year."
Yen Risk
Finance Minister Choi Kyung Hwan said last week there was a gradual recovery in the first quarter, although it wasn't strong. Choi added that a weak yen posed risks to exports.
The economy grew 0.8 percent in the period from the last three months of 2014, when it expanded at the slowest pace since 2009, according to central bank data. Consumer sentiment last month rose to the highest since October.
Before it's here, it's on the Bloomberg Terminal.
LEARN MORE