Art Market Reaches New Milestone With $2.7 Billion Sales Frenzy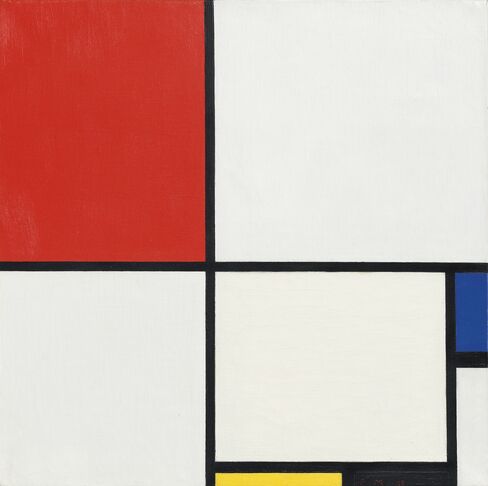 In a hushed salesroom at Christie's, five people fought for the chance to own a small square canvas of intersecting black lines with patches of color.
The final price on Thursday for Piet Mondrian's 1929 composition was $50.6 million, an auction record for the modernist painter. It was sold during a two-week auction frenzy in New York to capture the excess cash of the world's mega-wealthy who are increasingly turning to art as a status symbol and an investment.
A record $2.7 billion of art was sold at Christie's, Sotheby's and Phillips in day and evening sales that began May 5. The tally surpassed the $2.3 billion at similar sales of Impressionist, modern, postwar and contemporary art in New York in November and represents a 23 percent increase from $2.2 billion last May. The sales conclude Friday.
"People have a lot of money to spend," art dealer David Nahmad said. "If there were five more sales, people would be there to buy."
Collectors during the two weeks have made their way through half a dozen art fairs in New York anchored by Frieze and quick trips for the opening of the Venice Biennale in Italy. Thursday evening also saw back-to-back auctions with Christie's Impressionist and modern art sale starting at 5:30 p.m. Phillips delayed the start of its 7 p.m. contemporary art sale to accommodate exhausted dealers and collectors rushing from Christie's Rockefeller Center salesroom to Phillips on Park Avenue.
Moved Auction
Christie's sale Thursday totaled $202.6 million, exceeding its high presale estimate of $159.55 million and representing a 50 percent increase from the equivalent sale a year ago. Prices include buyer's commission; estimates do not.
Christie's moved the auction from the first week of May to the end of this week, which paid off because it allowed the company to create one mega week of sales that grabbed headlines and market share from Sotheby's.
The company's $705.9 million curated auction on May 11 spanned the entire 20th century, with two pieces selling for more than $140 million. Pablo Picasso's painting, "Les Femmes d'Alger (Version ''O'')," fetched $179.4 million, the most expensive artwork at auction. Alberto Giacometti's bronze sculpture of a pointing man was purchased for $141.3 million.
That sale created "a sense of frenzy, especially for the new buyers," said Giovanna Bertazzoni, Christie's global head of Impressionist and modern art in London. Those who were under-bidders at that sale returned on Thursday, she said.
As a result, all but three works among the 43 lots found buyers, Christie's said.
Train's Locomotive
By the end of Thursday, Christie's sold $695.5 million of Impressionist and modern art Sotheby's sold $420.4 million in the same category in which it's usually stronger.
"The results we saw today would not have been possible without the confidence that came out of our May 11 sale," Bertazzoni said on Thursday.
"The locomotive always has to come before the train," she said. "Our locomotive was the Monday sale."
The top lot was Mondrian's "Composition No. III, With Red, Blue, Yellow and Black." Its price smashed the artist's $27 million auction record set in 2009 at Christie's.
It was consigned by a private European collector who had owned it since 2009. The painting last appeared at auction in 1997, fetching $3.8 million. The buyer was Amy Cappellazzo, a founder and principal of Art Agency Partners in New York.
Russian Buyers
Russian buyers came out in full force, snapping up works by Claude Monet, Henry Moore, Edgar Degas and Amedeo Modigliani, whose 1916 portrait of a young woman "Beatrice Hastings" fetched $16.1 million.
The Modigliani was the top lot of the group of 22 Impressionist and post-Impressionist artworks from the collection of John Whitehead, the late Goldman Sachs Group Inc. executive. The Whitehead lots tallied $58.4 million.
Boutique auctioneer Phillips on Thursday night sold postwar and contemporary works totaling $97.2 million, just within its estimate of $96.1 million to $138.3 million.
The top lot, a large oil painting by Francis Bacon, "Seated Woman," fetched $28.2 million. The price for the 1961 painting, which depicts a contorted naked woman on a grey couch, was on the lower end of its $25 million to $35 million estimate. The work last sold in 2007 for $13.7 million at Sotheby's in Paris.
New Level
Phillips trails its two bigger rivals but collectors and dealers said they were impressed with Thursday's sale.
"It's probably the best auction Phillips has ever had," said collector Don Rubell. "It clearly moves them to a new level. It's not ebullient, but things are selling."
Several lots outperformed expectations. A white acrylic painting with geometric pencil lines by Agnes Martin sold for $4.2 million. A 1961 oil painting by Wayne Thiebaud, "Hamburger Counter," depicting a hamburger, bottle of orange soda, and condiments, sold for $2.2 million.
"The sales generally have been incredibly strong," said art adviser Kim Heirston, who bought a work by Helen Frankenthaler for $1.2 million. "The fatigue always is a factor at this point in the week, but for the great quality works there's still a lot of energy."
Close to 50 percent of the lots carried guarantees while 56 of the 70 lots found buyers.
Two Basquiats
There were some disappointments. Two works by Jean-Michel Basquiat including a 1983 bright red and yellow painting of a torso with a high estimate of $6 million, failed to sell. That work, "Krong Thip (Torso)" previously sold for $630,800 in 2006 at Sotheby's in New York.
The end of the major evening sales provided a little bit of drama. Just as bidding for the Bacon reached $25 million, a pregnant auction house assistant standing in the phone banks fainted. The auctioneer, Alexander Gilkes, paused for a few minutes while the employee received medical attention.
"I'm glad to say she's absolutely fine," Edward Dolman, chief executive officer of Phillips, said after the sale. "It was exciting for us all. She fainted at the key moment, really."
Before it's here, it's on the Bloomberg Terminal.
LEARN MORE