Voice of 'Simpsons' Billionaire 'Mr. Burns' Leaves Fox Show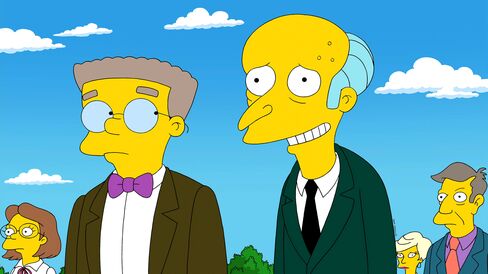 Harry Shearer, voice of the conniving billionaire Montgomery Burns on "The Simpsons," is leaving the long-running Fox television show after turning down a new contract offer from the producers.
Shearer, who also provides the voices of the amiable Christian neighbor Ned Flanders, principal Skinner and TV anchor Kent Brockman, said on Twitter Wednesday night he's departing the show, which was just renewed for its 27th and 28th seasons by 21st Century Fox Inc.
"Harry Shearer was offered the same deal the rest of the cast accepted, and passed," Executive Producer Al Jean said in a statement. "The show will go on and we wish him well. Maggie took it hard."
Pay issues between the cast and Fox have arisen before. In October 2011, the network said it could no longer produce "The Simpsons" under the current financial arrangements and then announced an extension a few days later. Shearer, 71, said the actors were being asked to take a 45 percent pay cut.
He also sounded off more recently in a February interview on the "WTF with Marc Maron" podcast.
"It is true that as an actor on an insanely successful TV series, I am by any standards of the human species obscenely overpaid," Shearer said. "It is also true that as an actor on one of the most insanely successful television series of all time, I am getting royally screwed. Both things are true."
Voices Wanted
The characters will live on, the producers told Variety, vowing to find actors to replace Shearer's lost voices. He has worked on the longest-running animated show since its 1989 debut. Creator Matt Groening and his partner James L. Brooks convinced the actor, who has also appeared in "This is Spinal Tap" and "The Truman Show," to join the cast.
In his Twitter post, Shearer cited wanting to do other things. "This because I wanted what we've always had: the freedom to do other work," he wrote.
At almost 600 episodes, "The Simpsons" is the longest-running scripted show on TV, a stalwart in the Fox network schedule and a staple of rerun television. The network's sister channel, FXX, agreed in 2013 to license 24 past seasons of the show, in what the parties called the biggest TV syndication deal in history.
The season 26 finale of "The Simpsons" airs Sunday on Fox.
Before it's here, it's on the Bloomberg Terminal.
LEARN MORE