Greece Talks Accelerate as Draghi Heads to Meet Lagarde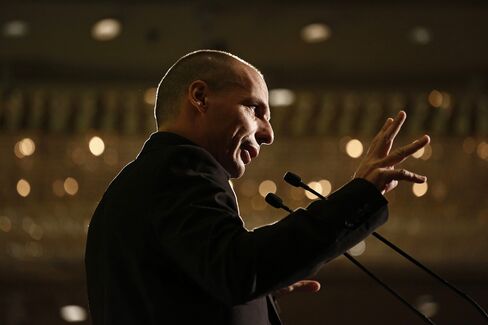 The debate over what to do about Greece is accelerating.
Greek officials will hold talks with the euro area and the International Monetary Fund Thursday and Friday as the rest of Europe urges the administration in Athens to hurry up with work required to access more aid and avert a sovereign default. IMF officials will also talk about Greece in Washington.
European Central Bank President Mario Draghi will have a chance to discuss the situation with IMF Managing Director Christine Lagarde in Washington Thursday. The two policy makers are due to speak on a panel together at 5 p.m. Frankfurt time. A spokesman for the central bank declined to comment on whether Draghi and Lagarde would also hold private talks.
Officials on all sides are piling pressure onto Greek Prime Minister Alexis Tsipras to seal an agreement for aid as the reserves of cash, time and goodwill extended in the country's 240 billion-euro ($274 billion) bailout program begin to run out. Some euro nations are starting to consider what to do if Greece is forced out of the currency bloc.
Tsipras has been raiding municipal coffers to pay salaries and pensions and the last repayment to the IMF, about 750 million euros on Tuesday, was made by drawing on a holding account at the fund, a Greek official said. Greece needs to pay the IMF about 300 million euros more on June 5.
"There has to be an agreement which takes into account the issue of liquidity," Greek government spokesman Gabriel Sakellaridis told reporters on Thursday. "Greek society makes the payments due from its own flesh."
The IMF's executive board will hold an informal meeting on Greece in Washington, said a person familiar with the matter. European Department Director Poul Thomsen will brief the board on recent discussions between Greece and its international creditors, said the person, who spoke on condition of anonymity because the meeting isn't public.
Greek Recession
Tsipras will see European leaders in Riga, Latvia, next week and Greece wants to convene a meeting of finance ministers to consider an aid disbursement before the end of the month. Greek officials are holding a conference call with representatives of the country's creditors on Thursday and will meet them in Brussels on Friday.
Greece's economy fell back into recession in the first quarter, increasing the stress on the government finances.
The government has to raise at least 3 billion euros ($3.4 billion) to meet the minimum budget targets acceptable by creditors, an official with knowledge of the discussions said. Disagreements also remain over the retirement age, pension cuts, privatizations and the government's intention to reinstate collective-bargaining restrictions in the labor market, the official said.
Finance Minister Yanis Varoufakis said that his government agrees with creditors on the need to restructure its social-security system, which is not sustainable at present, and it must make compromises with its bailout creditors. Any agreement must be consistent with debt sustainability and lead to an economic recovery, he said.
"Greece will sink without reforms," Varoufakis said in a speech earlier. "Our target is for the deal we achieve to lead to an exit to the crisis so we can have the comeback. The main thing that entails is for an agreement that escapes from an austerity trap."
(An earlier version of this story corrected the time reference in the sixth paragraph.)
For more, read this QuickTake: Greece's Fiscal Odyssey
Before it's here, it's on the Bloomberg Terminal.
LEARN MORE