Can You Lift a Family Out of Poverty With 6.53 Goats?
A study of poverty-fighting has mixed results. Many hungry families couldn't resist eating some of the farm animals they were given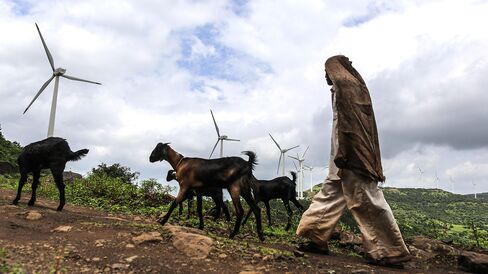 Giving the world's poorest people farm animals and other support increases their standard of living, though not enough to free them from poverty, says a study published on Thursday in the journal Science.
The study is the first thorough, multinational look at "graduation" programs—intensive, multipronged efforts to spring people from what academics call the poverty trap. Aside from farm animals like goats, sheep, and chickens, recipients get food, training, coaching, encouragement to save, and health education and services. The interventions last two years.
"It's exciting and exhilarating to see these results," Yale University economist Dean Karlan, an author of the Science article, says in an interview. While the effects are not huge, he says, they appear to be greater than those achieved by narrower antipoverty programs. "Where we're exuberant is where we compare these results to other things."
Showing scholarly caution, the Science article is more hedged than Karlan's comments, containing both good news and bad news for poverty fighters. It shows that a year after the intervention ended, families that participated had higher living standards than those that didn't. They were eating more, had more assets, had better mental health, made more use of financial services, and gave women more opportunities and respect. On the other hand, the authors say "the average effects are not very large and do not correspond to our intuitive sense of what it would mean to be liberated from the trap of poverty."
The theory of the poverty trap is that the world's poorest people can't get out of their ruts because of problems such as poor nutrition and lack of access to credit; one big push of concerted assistance is all they need to start a new life, the idea goes.
The study seems to show that it's not that easy. Monthly consumption per capita was only 4.9 percent higher for the participants than for the control group.
"It is possible that this particular trap is small—the beneficiaries have gotten out of it, only to join the broader mass of the poor, who might be in some other, bigger, trap," the authors write.
About half of the people in the study subsist on $1.25 a day or less, adjusted for the purchasing power of their local currencies, so it didn't take a lot to make them richer. People in India, for example, got "assets," usually farm animals, with a value equal to that of 6.53 goats. Some people in the six countries chose sewing machines instead of animals, while others asked for inventory to set up small stores.
Participating antipoverty agencies encouraged people to use their farm animals for income and subsistence—say, getting wool from sheep, eggs from chickens, honey from bees, and milk from goats and cows. But a lot of the hungry families couldn't resist eating some of their animals, even though the program included food assistance.
The evaluators looked at graduation projects in Ethiopia, Ghana, Honduras, Peru, India, and Pakistan. Ethiopia plans to expand the trial program to cover 3 million people; Pakistan and India are also scaling it up. The overall results were dragged down by Honduras, where the project bombed because 83 percent of the participants chose to receive chickens, and "a large fraction of the chickens died due to illness." That's not necessarily a flaw of the study, because farm animals die in the real world.
Most of the paper's authors are affiliated with Innovations for Poverty Action in New Haven or the Jameel Poverty Action Lab at the Massachusetts Institute of Technology, or both.
The graduation concept was originated by BRAC, an antipoverty group in Bangladesh. The Science article says that the approach fell out of favor because of implementation problems in some countries, but that lately some big organizations such as Oxfam, World Vision, and Heifer have gone back to the idea of giving poor people a livelihood. Two smaller ones, Trickle Up and the Boma Project, have fully embraced the graduation concept, Karlan says.
Further studies will focus on whether the positive effects of graduation programs last beyond one year after they end, whether cognitive behavioral therapy can increase their effectiveness, and whether the programs can be made more cost-effective by eliminating some of the less useful components.
Before it's here, it's on the Bloomberg Terminal.
LEARN MORE