This Chinese Developer Has 3 Days to Prove It's Not Kaisa II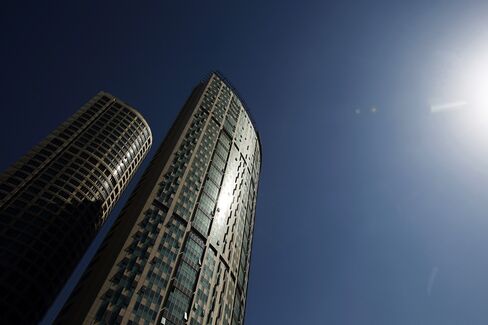 Renhe Commercial Holdings Co. faces the glare of the offshore bond market on Monday when the Chinese developer shows its ability to repay debt.
The pressure on Renhe comes after Standard & Poor's called its recent discounted buyback of dollar notes a "distressed exchange" that equaled a default. The mall builder is scheduled to repay $79 million of securities maturing on May 18 to investors who snubbed the December offer.
Tensions are simmering in China's U.S. currency debt market after two companies defaulted on coupons in the last month amid signs of more financial stress in the world's second-biggest economy. While Renhe has enough cash to pay Monday's bills, honoring a further $161 million of bonds maturing next year could prove a more challenging task, according to S&P.
"I'd be surprised if Renhe risks their going-concern by not paying up," said Xuanlai He, a Singapore-based credit analyst at Commerzbank AG. "It's still early to make a call on their 2016 debt. Their business isn't going well and they may need to raise more cash or roll over loans to boost confidence among offshore investors."
E-mails and calls to Renhe's media and investor relations departments on Thursday and Friday weren't replied to. A person answering the phone at the company's headquarters on May 13 said the finance department couldn't answer questions about its bond redemption plan.
Rating Cut
S&P downgraded Renhe's credit rating to "selective default" in January after the developer bought $660 million of its bonds at discounts of as much as 18 percent of their face value. The score was revised later that month to CCC, eight levels below investment grade, after the buyback completed.
"The successful completion of the tender offer and the rights issue enabled us to lower our gearing ratio and reduce our financial expenses," Chairman Dai Yongge said in Renhe's 2014 annual report published on April 30.
Dai controls 49.4 percent of the company, which listed in Hong Kong in October 2008 and is based in the northern city of Harbin.
Homebuilder Kaisa Group Holdings Ltd. defaulted last month, becoming the first Chinese property developer to miss interest payments on its U.S. currency debt. Coal importer Winsway Enterprises Holdings Ltd. last week became the nation's second company to miss a dollar-bond obligation this year, when it didn't pay $13.2 million of interest.
China's economy grew last quarter at the slowest pace since 2009. Retail sales have cooled, with a 10 percent gain in April the least since February 2006. Policy makers have cut interest rates three times since November to stem the slowdown, as well as ease home lending rules to spur the real estate market.
New Normal
"Seeing an occasional default is going to be quite normal going forward in the Chinese high-yield bond market," said Michelle Kuo, a money manager in Taipei at Union Securities Investment Trust Co., which doesn't own Renhe notes. "Not every industry will benefit from the policy stimulus."
Renhe bought $221 million of 2015 notes and $439 million of its 2016 securities in a tender offer that was partly funded by a rights issue and bank loans. Renhe paid as much as 93 cents and 82 cents on the dollar, respectively, for the bonds.
The 2015s fetched 97.08 cents on the dollar in Hong Kong on Thursday, according to Bloomberg-compiled prices, while the 2016s traded at 91 cents to yield 25.9 percent.
Debts Double
Renhe, which builds underground shopping malls, saw short-term debts more than double to $1.4 billion in 2014, according to data compiled by Bloomberg. Its cash flow may be insufficient to redeem the March 2016 bonds and $400 million of loans due in August next year, S&P said in January.
"Getting more support from shareholders remains an option though we are not sure how viable that is," Christopher Yip, an S&P analyst in Hong Kong, said by phone on May 13. "There aren't much assets for them to sell."
The company had negative free cash flow since the end of 2007, while cash in hand dwindled to $134 million at the end of last year from more than $1 billion in 2010. Renhe's stock has slumped about 80 percent from its 2009 peak to HK$0.42 at 10:38 a.m. on Friday in Hong Kong.
"Traditional shopping malls will have to find ways to lure back shoppers given the stiff competition from the Internet," Union Investment's Kuo said. "Cheaper funding costs onshore might mitigate pressure."
Before it's here, it's on the Bloomberg Terminal.
LEARN MORE