Thiam Tears Up Before Move to Switzerland: City of London Notes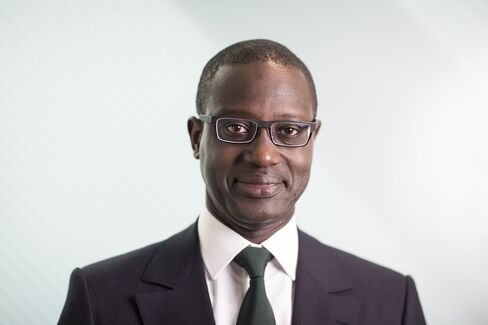 Tidjane Thiam found his final shareholder meeting as the boss of Prudential Plc an emotional affair.
The usually confident Ivory Coast-born executive faltered several times during his speech at the Queen Elizabeth II Conference Centre, near Parliament, as he thanked staff and shareholders. At the end of the month, and after seven years at the insurer, Thiam moves to Zurich to become CEO of Credit Suisse.
He paid tribute to his predecessor Mark Tucker for his contribution. Tucker now runs AIA Group -- the Asian insurer Thiam tried and failed to buy in 2010, resulting in censure by British regulators over how he disclosed the plan.
Thiam, 52, finished off with a quote from his mother, Marietou, to the applause of the board and shareholders.
"In all aspects of life it's not how you start out," he said, "but how you finish that matters."
Chief Risk Officer Pierre-Olivier Bouee was at the ready with water for his CEO. Bouee is also leaving. While his future plans have not been confirmed, the Frenchman's career has closely followed that of Thiam, having both joined Prudential in 2008 and spending four years together at Aviva.
Before it's here, it's on the Bloomberg Terminal.
LEARN MORE