That Dubious Bid for Avon Sent Other Cosmetics Stocks Soaring Too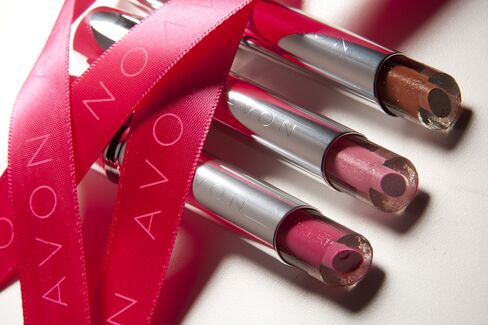 Shares of Avon Products climbed as much as 20 percent today, after a company called 'PTG Capital Partners' submitted a filing to the SEC of an offer to buy the company.
Suspicions were immediately raised given the massive premium on offer ($18.75 a share versus Avon's closing price on Wednesday of $6.67) and the fact that no one had ever heard of the self-described "global private equity investment firm." Matters weren't helped by an SEC filing which apparently misspelled "PTG" as "TPG" twice, and also cut and pasted from the latter firm's website. Calls to the company went unanswered and the law firm responsible for making the filing does not appear to exist.
Still, the filing sent Avon stock surging by almost 20 per cent to $8.00. An Avon spokesperson later told CNBC that the company is treating the offer as hoax.
Whatever the result of the suspicious bid turns out to be, it wasn't only Avon stock that was affected.
Shares of several of Avon's competitors also spiked briefly, before coming back down. Here's a look at what happened to some other cosmetics companies.
Coty jumped as much as 4.3 percent, after the news broke shortly before 11:40 a.m. ET.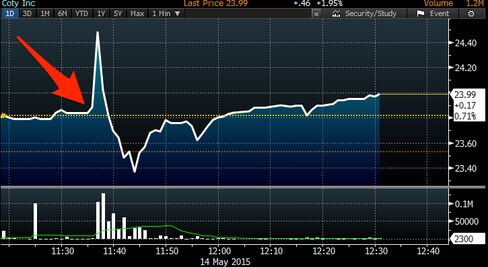 Revlon rose close to 2 percent.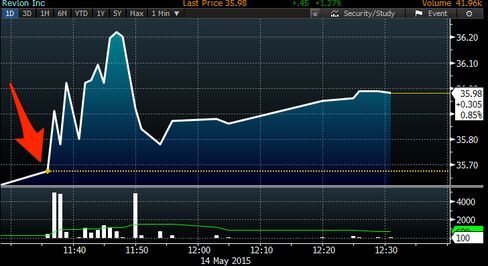 Estee Lauder was up 1.9 percent.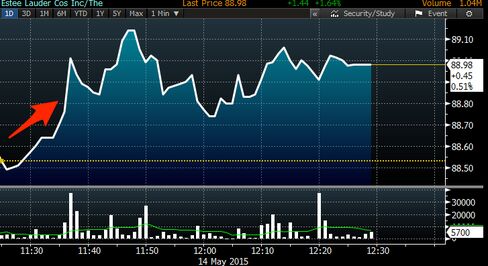 And Elizabeth Arden rose 3 percent.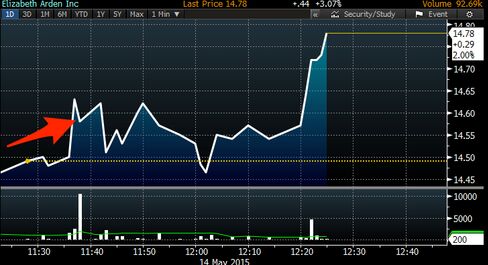 Before it's here, it's on the Bloomberg Terminal.
LEARN MORE