Striker Rights Roil Chile as Bachelet Tries Erasing Pinochet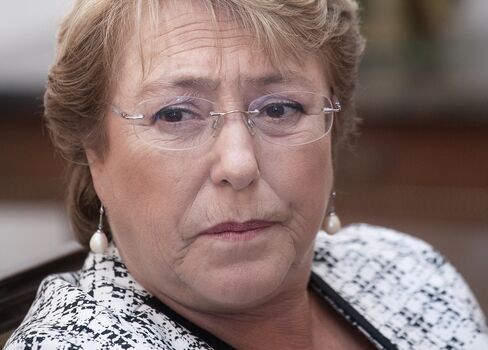 Alejandra Leiva had been on strike for 15 days in March, picketing in front of the Dijon clothes store, when she noticed women arriving with resumes in their hands.
The next day, the store in the Chilean town of San Vicente de Tagua Tagua, 124 kilometers south of Santiago, was back in business with replacement workers.
"It was like a punch in the stomach," she said in a phone interview from San Bernardo, where the 35-year-old lives with her grandmother. "Everybody just lost the will to keep fighting. It was all over after four days and we didn't get the salary increase we wanted."
Chile is one of only four countries in the 34-member Organization for Economic Cooperation and Development, including the U.S., that allows companies to replace striking workers, thanks to labor laws drawn up during the 1980s when dictator Augusto Pinochet was still in power.
Thirty-five years later, President Michelle Bachelet says it's time for Chile to repay an historic debt to workers and is backing a bill to ban the practice and boost the power of labor unions. The proposed draft has sparked controversy among businessmen, academics and some legislators, who question what "debt" she referring to.
Workers such as Leiva have seen wages rise an annual average of 2.7 percent above inflation over the past five years, helping Chile cement its position as Latin America's wealthiest country. The jobless rate is 6.1 percent, down from 9.7 percent in 2010 and the country loses fewer days to strikes than any other Latin American nation after Ecuador.
Far from helping raise wages and provide job stability, economists at the Catholic University say the bill will cost as many as 150,000 jobs, or 1.8 percent of the workforce because of increased labor expenses.
Fresh Face
Such is the tension over the labor bill, that Bachelet changed her works minister on May 11, naming the minister in charge of relations with congress, Ximena Rincon, to replace Javiera Blanco.
The move was part of a broader cabinet reshuffle that also included changes in the finance ministry. The appointment of a new works minister was seen as an opportunity for the president to advance her labor reforms, said Andres Osorio, an economist at IM Trust Credicorp Capital in Santiago.
"This may be a push for a new and fresher face to seek more consensus," Osorio said.
In a reply to e-mailed questions, the Labor Ministry said the proposals would remain the same after the change of cabinet and that they would not lead to job losses.
"The bill's goal, among others, is to create symmetry and dialogue," the ministry said. "It will reduce labor conflicts."
Collective Bargaining
Under the government's proposal, unions will become the only organizations allowed to conduct collective bargaining, while companies will be barred from automatically extending benefits obtained through a collective contract to non-unionized employees. It also stops companies from replacing striking workers.
Restrictions on labor unions mean only 8 percent of workers participate in collective bargaining in Chile, compared with 60 percent for Argentina and Brazil and about 90 percent in Uruguay, according to data from Fundacion Sol, a think-tank that specializes on advising labor groups.
Income Inequality
Workers such as Leiva, dismiss the idea they should be grateful to government policies that helped drive economic growth over the past 30 years. The mother of two says she earned the equivalent of $370 a month and with other union members was demanding an increase of 7 percent. She got a $215 bonus after the strike ended at the shop, but no salary increase.
Chile's retailers, such as Cencosud SA, SACI Falabella and Ripley Corp SA, could bear the brunt of higher labor costs because wages already account for as much as 40 percent of their costs, according to a study by Credicorp Capital.
The copper industry is also concerned. Antofagasta Plc CEO Diego Hernandez has questioned the timing of the proposals amid sluggish growth, while Codelco's CEO Nelson Pizarro said some aspects may increase costs for the state-owned company by more than $250 million. Chile produces a third of the world's copper.
The limitation on union rights is one of the reasons Chile has the highest income inequality among OECD countries, said Ricardo Requena, a partner at Focus Consult, a consultancy that focuses on labor laws and labor conflict resolution.
"The current laws give companies a lot of powers and in the end make collective bargaining irrelevant," Requena said.
Creating Conflict
Herman Von Muhlenbrock, president of the Federation of Chilean Industry, says the bill threatens to create conflict where there is none.
The proposals "will artificially polarize labor relations," Von Muhlenbrock said in a speech April 29.
Chile lost a little more than 200,000 working days to strikes in 2008, according to the latest figures available from the International Labour Organization. That compares with 143 million in Brazil, 8.3 million for Argentina and 800,000 for Uruguay. Ecuador lost about 37,000.
The number of days lost to strikes in Chile jumped to more than 400,000 in 2013, according to information from the Labor Ministry.
Greater union powers threaten to weaken and economy that is struggling to rebound from the slowest growth in five years, business leaders say. Gross domestic product expanded 1.8 percent in the fourth quarter from the year earlier, compared with 1 percent in the previous three months.
If industry is hoping that the new labor minister Rincon will water down the bill to make it more acceptable to business owners, they will be disappointed, said Barbara Figueroa, president of Chile's largest confederation of trade unions, known by its acronym in Spanish, CUT..
Rincon is "deeply committed" to the government's proposals, Figueroa told reporters. "If you look at how she voted in congress, she is a minister who is very close to the objectives of the workers."
Before it's here, it's on the Bloomberg Terminal.
LEARN MORE