Poles Who Never Had It So Good Wonder If It's Really True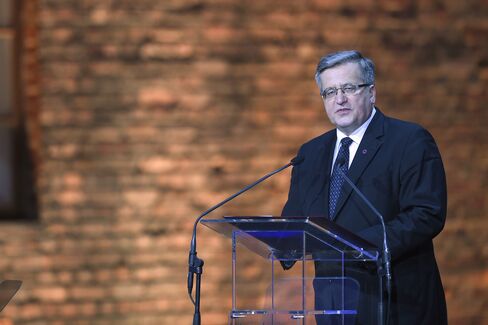 Judging by the economic numbers, Polish President Bronislaw Komorowski shouldn't be facing an uphill battle for re-election.
Yet he now finds himself scrambling to stop the momentum of his upstart opposition challenger, Andrzej Duda, who scored a surprise first-round victory on May 10. Many Poles, it turns out, aren't impressed with Komorowski and his ruling Civic Platform allies rattling on about how the economy has grown the most in the European Union since the global financial crisis.
"I'm fed up with hearing about just how good we have it in Poland," said Marian Stelmach, a 46-year-old auto mechanic in Warsaw. "Life is good for Mr. Komorowski and his friends, but other people also live here."
If Komorowski can't come back to win the May 24 runoff, it may spell doom for Civic Platform's chances in a fall general election. It may also prompt Prime Minister Ewa Kopacz to boost spending and undermine the bond market, where the country borrows for 10 years at less than 3 percent, half the rate it paid when the party took power in 2007.
On paper, Polish living standards have jumped under Civic Platform's rule, rising to about two-thirds the EU average, when measured by gross domestic product per capita, from about half in 2007. GDP jumped 3.5 percent in the first quarter compared with a year earlier, the Statistics Office said on Friday. It will maintain that pace for the full year, according to a Bloomberg survey of analysts.
Beyond Headlines
Digging deeper reveals why so many of his compatriots share Stelmach's feelings. Upbeat headlines and freshly-paved, EU-funded highways mean little to those seeking higher-paying jobs, better health care, and a more efficient legal system. Unemployment has exceeded 10 percent for more than six years, and as many as 2 million Poles emigrated to seek better lives in western Europe.
"If you look at the younger generation, there's a discrepancy between expectations and the every day reality, mainly in terms of jobs, stability of employment, and the level of wages," Jacek Kucharczyk, head of the Warsaw-based Institute of Public Affairs, said by phone. "When they heard Komorowski saying how good they have it here and about the transformation, they've decided to show him the finger."
Komorowski Trailing
Duda has pulled ahead before the runoff with 48 percent support, compared with 43 percent for Komorowski, a survey of 1,100 people by research group IBRiS for Polish public radio showed on Friday. Law and Justice would beat Civic Platform in the general election, due by November, according to a separate survey by IBRiS on Thursday.
Duda won the first round with 35 percent, while Komorowski, 62, trailed by a percentage point, after his popularity rating tumbled from more than 60 percent three months ago.
While Civic Platform has frozen public wages, raised the retirement age, and erased debt by canceling bonds held by the private pension funds, Law and Justice is offering a change of tack. It wants to reverse the retirement age increase and boost benefits for families with children.
Duda, who called on Friday for Poland to strengthen its "Christian values," has pledged to levy new taxes on banks and retail companies resembling those introduced by Hungarian Prime Minister Viktor Orban, a move that's angered businesses in that country and raised concern among investors in Poland.
Company 'Discrimination'
"In practice and in state regulations there isn't a place for populism and discrimination against companies," Renata Juszkiewicz, the head of the Polish Chamber of Commerce and Distribution and chief of retailer Metro AG for central and eastern Europe, said by e-mail this week.
AT the same time, Civic Platform has failed to make good on a pledge to help as many as 565,000 households who borrowed in francs in a bet that the zloty would appreciate against the Swiss currency. With $38 billion in such loans, they've watched monthly payments skyrocket following the zloty's 37 percent loss against the franc since 2008.
Law and Justice has praised Orban for making Hungarian banks, and not borrowers, take the brunt of pain tied to franc mortgages. Duda called on Friday for the loans to be converted to zloty at the original rate they were taken in. The Swiss-mortgage holders are part of the middle class that has historically backed Civic Platform, and failure to help them following this year's franc rally "represents a lost opportunity" for the government, Kucharczyk said.
Job Complaint
Voters have complained that the government's confidence in its economic record has made it out of touch with average Poles, an image that Komorowski tried to improve this week with mixed success.
The president presented a plan on Friday to provide 100,000 young Poles with two-year job guarantees in a bid to reconnect with the disgruntled electorate. That came after he was filmed on Wednesday speaking to a teenager who asked how his sister can buy an apartment when her salary of about 2,000 zloty ($557) a month is below the national average.
"Find a different job and take out a loan," Komorowski said. "Do you know that the unemployment rate is falling in Poland?"
Before it's here, it's on the Bloomberg Terminal.
LEARN MORE