Here's a Bargain: Federico Fellini's $4.6 Million Home in Recessionary Rome
It's a buyer's market in Italy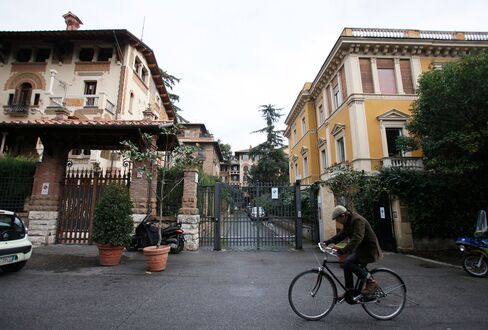 What does $4.6 million buy you in Manhattan? A two-bedroom apartment in the Flatiron District with views of the Empire State Building. In Rome, the same amount in euros can get you something twice the size: Federico Fellini's home no less, a fifth-floor attic in a historic palazzo where the filmmaker lived while making "La Dolce Vita," according to Coldwell Banker, the real estate brokers in charge of the sale.
Even if you're not a film buff, a bargain is a bargain: three bedrooms, three bathrooms, terraces overlooking lush gardens of an aristocratic villa. Similarly-sized pads in the area go for about 2 million euros, according to data provided by Italy's Ministry of Finance. But the fame of its ex-resident doubles the asking price for 141 Via Archimede.
Still, it's been on the market for two months and no takers. The current owner bought it from Fellini back in 1969.
In a nation of house-rich but cash-poor citizens, Italy is a buyer's market.
Many Italians own more than one piece of property. To be precise, each homeowner has an average 1.3 properties, according to a Bloomberg News calculation of Finance Ministry data. Average housing wealth is estimated by the Bank of Italy to be at more than 200,000 euros per household.
Now, if you're anything like the typical Italian household, whose average disposable income is a mere $24,724, and your children are staring at youth unemployment of 40 percent in a country mired in a record-long recession, chances are you'll be eager to sell that second home you're paying much-hated taxes on.
Problem is, the housing glut is driving prices down. Even for something as priceless as Fellini's Roman abode. After Cyprus, Italy is the euro-area country where house prices fell most in the last two years.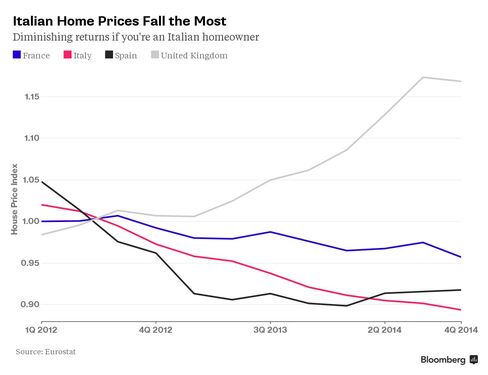 For more on the global economy, check out Benchmark:
Before it's here, it's on the Bloomberg Terminal.
LEARN MORE