Oil Sands Land Becomes Alberta's Hot Real Estate as Oil Rebounds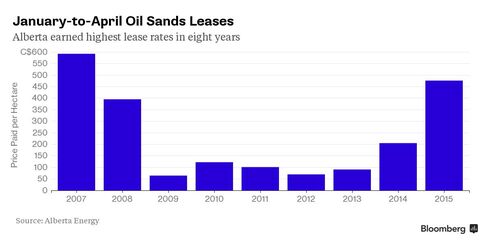 An indication that crude's recent rally has further to run can be found in the northern forests of Alberta, where companies are paying the most in eight years to lease land for oil sands development.
Auctions attracted the highest prices since 2007 in the first four months of the year even as Canadian heavy oil slid below $30 a barrel, from $87.23 in June, and producers from Cenovus Energy Inc. to Royal Dutch Shell Plc slashed spending and jobs.
The trend is a sign that companies see the decline to a six-year low in March as temporary. Western Canadian Select crude has bounced back, gaining about 70 percent since March, almost twice as much as U.S. oil futures, amid rising demand for heavy oil from American refiners. Producers are more efficient than before the downturn after companies including Canadian Natural Resources Ltd. cut costs as much as 20 percent.
"Right now it makes a great deal of sense to go in and acquire rights in the oil sands," Trevor Newton, chairman of Strata Oil & Gas Inc., said in a phone interview. "Let's get this now while we can. We are going to get them cheaper."
The province holding most of Canada's crude reserves, the world's third largest, drew an average of C$476.14 per hectare ($160 per acre) in offerings of rights through April, the most seasonally since 2007, data on the province's website show.
Biggest Buy
The biggest purchase was by LandSolutions LP, which buys rights on behalf of oil producers. The land company paid C$7,816 a hectare, government data show. The purchase was for carbonate reserves located under Shell's Peace River operations, said Strata's Newton, whose company bid unsuccessfully for the reserves.
The increase in lease prices is a bright spot for Alberta, where revenue from leases and permits fell to C$24.1 million in the fiscal year ended March 31 compared with C$25.1 million a year earlier.
The bigger-than-normal payments for oil-sands leases may not last. The first public offering in May yielded C$2.55 an hectare for 5,120 hectares in the Athabasca area, the smallest price in an auction since October 2013, government data show.
Companies have been pulling back rather than investing. Shell withdrew an application to develop the Pierre River oil sands mine in February, the same month Cenovus suspended an expansion of its Christina Lake project.
Oil royalties will account for just 7 percent of Alberta's revenues this fiscal year, down from almost 20 percent a year ago, according to the budget released in March. The province's Progressive Conservative government, which increased income and gasoline taxes to help cushion the revenue loss, was swept from office in elections this month after 44 years in power.
Canadian Strength
Canadian crude's recent strength has been driven by new pipelines delivering rising volumes to U.S. refiners. Plants in the Midwest, the biggest consumers of Canadian crude, ran at their highest seasonal rates since at least 2010 earlier this month, U.S. Energy Department data show.
Western Canadian Select has risen above $53 after closing below $30 for the first time since February 2009. The price fell 4 cents to $51.09 a barrel at 1:56 p.m. Mountain time on Friday. Its discount to West Texas Intermediate oil, the U.S. benchmark, was $8.60 Friday, up from $8 on May 13, the smallest since September 2012.
WTI for June delivery slid 19 cents to end the week at $59.69 a barrel in New York. The price has risen from $43.46 in March amid signs that U.S. shale oil producers are curtailing output.
In Alberta, companies can acquire rights to develop oil sands by requesting that an area that isn't already leased be auctioned in a public sale, which happens once or twice a month. They can also buy the rights by individual sale. Oil sands rights acquired by direct purchase fetched an average C$613.59 a hectare in April, the most since June 2012.
"The price they are paying relative to the rights they are securing is very small," Brad Hayes, president of Calgary-based Petrel Robertson Consulting Ltd., said in an interview. "The reserves in place are immense."
Alberta's Carbonates
Alberta's carbonates may hold 447 billion barrels of oil, making them the world's second-biggest non-conventional reserves, said Newton, whose company has rights to develop carbonate reserves in the Peace River region.
Extracting bitumen from carbonate, sedimentary rock formed from decayed organisms, is experimental because of costs and technical difficulties. Larcina Energy Ltd., one company that produces 1,800 barrels of bitumen a day from carbonate at its Saleski site, sought creditor protection earlier this year after oil's plunge.
The carbonate reserves under the Shell site hold "billions of barrels" of bitumen, according to Peace River, Alberta-based Strata.
Shell doesn't comment on land sales "for commercial and competitive reasons," Cameron Yost, a spokesman, said in an e-mail. LandSolutions Chief Executive Officer Chad Hughes didn't return a phone call for comment.
"The outlook for oil producers in Canada is good and, if anything, it's much better than for crude producers in the U.S.," Carl Larry, head of oil and gas for Frost & Sullivan LP, said by phone from Texas. "The technology, the management intelligence, the production intelligence, it's there already."
(An earlier version of this story corrected the acre conversion.)
Before it's here, it's on the Bloomberg Terminal.
LEARN MORE