Momentum Stocks Seen Waning as U.S. Markets Show More Volatility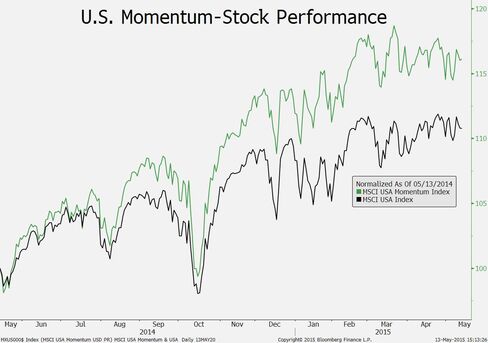 Buying U.S. shares that have risen the fastest may soon stop paying off because market volatility is starting to accelerate, according to Russ Koesterich, BlackRock Inc.'s global chief investment strategist.
As the attached chart shows, an MSCI index of U.S. shares demonstrating the most momentum surpassed its benchmark for the 12 months ended yesterday. The MSCI USA Momentum Index consists of companies in the MSCI USA Index, also shown in the chart.
The Chicago Board Options Exchange Volatility Index, based on Standard & Poor's 500 Index options, set this year's low on April 24 and then rose as much as 23 percent. A similar gauge for Treasuries, compiled by Bank of America Merrill Lynch, climbed as much as 27 percent during the same period.
"Increasing volatility has an important implication for investors: It represents a headwind for some of the most popular momentum trades," Koesterich wrote in a posting two days ago on BlackRock's blog. He referred to biotechnology and social-media stocks, which have fallen in the past three weeks, as examples.
"The slowing momentum seems likely to continue," the New York-based strategist wrote, because volatility is still low by historical standards and investors have yet to fully adjust for potential interest-rate increases from the Federal Reserve.
Investors would be better off buying shares that trade at relatively low multiples of asset values, Koesterich wrote. He singled out integrated-oil companies, based on figures showing their price-to-book-value ratio is about 40 percent lower than the S&P 500's ratio. Book value represents the value of assets after subtracting liabilities.
Before it's here, it's on the Bloomberg Terminal.
LEARN MORE