MetLife Says Focus on Cash Flow and Wait Nine Months for Data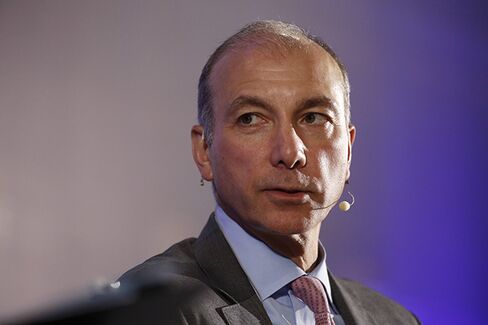 MetLife Inc. Chief Executive Officer Steve Kandarian has highlighted free cash flow as a key metric for investors to evaluate when judging his company.
If you want to take his advice, you'll have to wait to get a thorough look. The insurer reports the figure only on an annual basis, and just as a share of operating earnings, rather than giving a dollar figure.
Life insurers, particularly the two largest in the U.S., MetLife and Prudential Financial Inc., "are not the most transparent," Cathy Seifert, an equity analyst at Standard & Poor's Capital IQ, said by phone. 'Some companies have sort of closed up the kimono a little,'' she said. "There's the talk and then the walk. We're still getting the talk but maybe the numbers are not playing that out."
Kandarian has sought to downplay the importance of net income, which can fluctuate on a quarterly basis because of derivatives tied to currencies and interest rates. The CEO said in his annual letter in March that the company should be measured on its ability to return cash to shareholders.
"Since the financial crisis, investors have shown increasing skepticism toward reported earnings for life insurers," Kandarian wrote. "Nothing is more fundamental than cash."
Oversight from regulators and ratings firms can limit how much of a life insurer's earnings can be distributed to shareholders. Free cash flow, which subtracts capital investment from operating cash flow, can be used for share buybacks and dividends.
The number can be difficult to compute every three months because it is calculated based on annual filings to state insurance regulators, according to John Calagna, a spokesman for MetLife.
'Too Volatile'
"A lot of work goes into calculating free cash flow, and it is too volatile on a quarterly basis to be meaningful," Calagna said in an e-mail. "Analysts and shareholders are very pleased that MetLife is providing free cash flow information."
While Prudential doesn't disclose free cash flow on a quarterly basis, the Newark, New Jersey-based insurer is similar to MetLife in reporting a figure every three months for cash and liquid assets at the holding company. That data provides a window into a company's ability to pay dividends or repurchase shares. Insurers Principal Financial Group Inc. and Lincoln National Corp. also provide annual data.
Honeywell International Inc. the provider of aerospace products and specialty chemicals, is among non-insurance companies that highlight quarterly free cash flow. Soft-drink maker Coca-Cola Co. and American Airlines Group Inc. also cite the metric.
Cost of Capital
Kandarian said in 2012 that he planned to lift free cash flow to half of earnings, from about 40 percent at the time. The ratio rose to 44 percent in 2014, MetLife said in a February conference call, beating the company's 40 percent projection from December.
The CEO has sought to focus on metrics that are most important to investors as he works to boost the company's share price. MetLife has slipped 1.5 percent since the end of 2013, compared with the 14 percent gain of the Standard & Poor's 500 Index.
Kandarian is counting on insurance offerings such as dental coverage after reducing exposure to more capital-intensive businesses, like retirement products that provide client guarantees. He has sought to make sure return on equity is higher than the cost of equity capital.
MetLife has had to scale back plans for share repurchases while awaiting clarity from regulators about capital rules that will apply to some of the largest non-bank financial companies. Kandarian last week said that MetLife's ROE will be about 11 percent next year, compared with a projection he gave in 2012 of a range of 12 percent to 14 percent by 2016.
Sean Dargan, an analyst at Macquarie Group Ltd., agreed that investors are increasingly looking at free cash flow to assess companies' ability to generate funds that can be returned to shareholders. He said he'd welcome disclosure on a quarterly basis and that he's unable to derive the figure based on data disclosed by MetLife.
"There's no real way of backing that out," he said.
Before it's here, it's on the Bloomberg Terminal.
LEARN MORE