Italy's Second-Largest Bank Made a Killing by Dumping Italian Bonds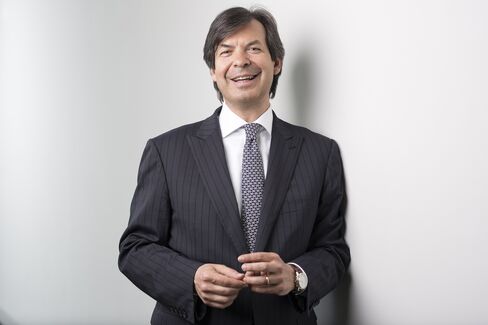 Intesa Sanpaolo SpA boosted income by cashing in on a debt-market rally fueled by the European Central Bank's bond-purchase program before this month's selloff, its chief executive officer said.
Profits at Italy's second-largest bank doubled in the first quarter, boosted by a four-fold jump in trading revenue to 602 million euros ($687 million). Half of that derived "from the disposal of government bonds due to quantitative easing," Carlo Messina said on Wednesday in a Bloomberg Television interview with Francine Lacqua.
Italian government bonds surged in the first three months of the year, sending yields to record lows, as the ECB began its QE program, which is mopping up 60 billion euros of debt a month. By the end of the quarter, Intesa Sanpaolo's holdings of the securities classified as available-for-sale were 29 percent lower than a year ago, according to data compiled by Bloomberg Intelligence based on the bank's May 11 earnings statement.
Since the end of the quarter, Italian government bonds lost 4.2 percent through May 13, based on Bloomberg World Bond Indexes, in an increasingly violent region-wide rout. After narrowing to a five-year low of 84 basis points, or 0.84 percentage point, on March 12, the extra yield investors demand to hold Italy's 10-year bonds instead of benchmark German debt has widened to 1.16 percentage point as of 3:31 p.m. London time.
QE Effect
"The first reaction to the quantitative easing was probably over-expecting the real results, so the reduction in yields and spreads was too high," Messina said. "Now I think that the market is considering the right level of medium-term and short-term impact deriving from the quantitative easing. I consider this more correlated with the fundamentals of the different countries."
The ECB reported on May 4 it had purchased a total 15.2 billion euros of Italy's public debt at the end of April, having bought 7.6 billion euros in March. The nation's government debt rose to a record 2.18 trillion euros in March, the Bank of Italy said Thursday.
"Intesa has been the most clear of the European Union banks in disclosing its bond strategy," said Jonathan Tyce, an analyst at Bloomberg Intelligence. "Likely other Italian and Spanish banks have sold into the rally, realized gains and boosted capital."
Before it's here, it's on the Bloomberg Terminal.
LEARN MORE