Foreigners Among Dead in Attack at Popular Kabul Guesthouse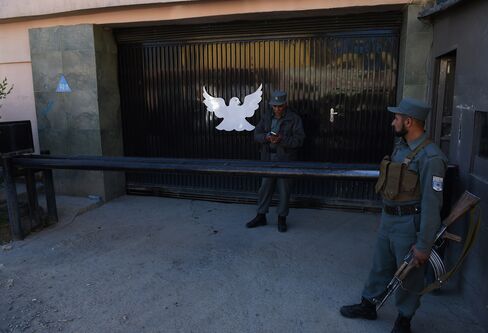 The death toll climbed to 14 in a Taliban attack that targeted an area of Afghanistan's capital popular with foreigners.
The United Nations Assistance Mission, which announced the higher death toll in a statement on Thursday, didn't break down their nationalities. Several others were wounded, it said.
Two Pakistanis, one American and four Indians were confirmed dead, according to press officials from the Pakistan, U.S. and Indian embassies. An Italian was also killed in the attack, according to the nation's foreign ministry.
A lone attacker armed with an AK-47 began shooting guests who were listening to live music in the garden of the Park Palace Guesthouse during a party on Wednesday night, Sayed Gul Agha Rouhani, Kabul's deputy police chief, said by phone. Police rescued 54 people after a seven-hour siege.
This is the first time the Taliban has targeted civilian foreigners since announcing the start of their annual spring offensive. The attack, coming just hours after a deadly strike in neighboring Pakistan, highlights the challenges facing the nations' leaders who recently vowed to bury differences and jointly combat terrorism.
Four Indians are confirmed dead, Ramkumar Thangaraj, spokesman for the Indian embassy in Kabul, said by phone without elaborating. U.S. embassy spokeswoman Monica Cummings confirmed by e-mail that an American citizen was killed.
The Pakistanis killed were Abdul Satar, a finance manager at a construction company, and Ismail Awan, an adviser to a government office, Pakistan embassy spokesman Akhtar Muneer said by phone.
The incident took place around 8:30 p.m. on Wednesday in the Kolola Poshta area of Kabul where the Interior Ministry, United Nations compound, and a foreign-run hospital are located.
Taliban spokesman Zabihullah Mujahed claimed responsibility and said a sole militant carried out the attack.
Before it's here, it's on the Bloomberg Terminal.
LEARN MORE