The Manufactured Nostalgia Behind the Herschel Backpack
How two brothers created a huge heritage backpack company, dating all the way to 2009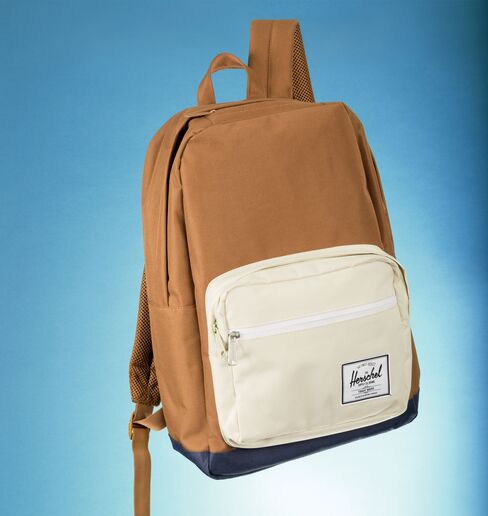 At some point in the last few years, Herschel Supply backpacks became ubiquitous in cities such as New York and Los Angeles. They're worn by school children and stylish folks in the U.S., Asia, and Europe. They're stocked at upscale retailers including Nordstrom and Barneys and at skate chains like Zumiez. More than 4,000 stores carry them, and the company keeps about 15 factories in China busy. In the fall of 2014, Herschel brought over about 300 containers of backpacks.
A Herschel backpack is a rejiggered take on the classic form. One of the hottest styles, the Little America, is a rectangle with a flap closure held by the kinds of straps and buckles a 19th century miner would have used. It costs $69.99. The Pop Quiz, which is the same price, looks like the one you remember carrying in fifth grade. But some of the backpacks' elements come in unexpected colors and combinations—a bag could have a sky blue body, a white pocket with a blue flap, and fuchsia straps.
What unites them all is a square white label. It reads, "The Finest Quality/The Herschel Supply Co. Brand/Trade Mark," with the word "Herschel" in script. It has the look of a marque that's been around for a century. The first time I saw it, I was sure I'd known about the company for years and had maybe had one as a child. That's not possible, because two brothers founded Herschel in 2009. In Canada.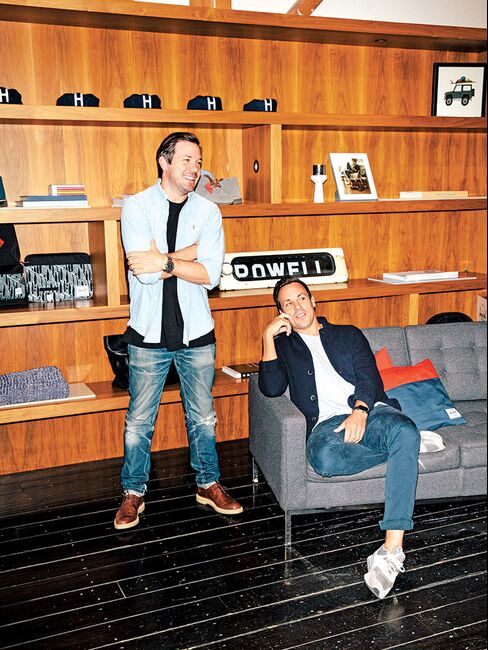 Jamie and Lyndon Cormack grew up in Calgary. For the most part, they're extremely polite, though true to their Scottish roots, they swear with casual relish. They always apologize immediately after. They played hockey as kids and still do at night sometimes. Lyndon is a bit dapper, with slicked-back hair, while Jamie looks tougher. But it's Lyndon who doesn't mind a scuffle, according to statistics kept by his adult hockey league. They're obsessed with sneakers, and they ride motorcycles. Jamie, 41, is the creative director. Lyndon, 38, handles the operational details.
The Herschel office is in an enormous former tin can factory in Vancouver's Gastown, a neighborhood where warehouses are turning into restaurants and offices. Herschel has 5,500 square feet spread over three floors. The brothers plan to take an additional 11,000 this year. "It's hard to get space in this building," Lyndon says. "So we snap it up." They have 65 employees in Vancouver, 3 in Los Angeles, and 25 in three offices in China. They're hiring more. The offices in Vancouver are filled with expensive designer furniture from Knoll and Herman Miller.
There's nothing accidental about the success of Herschel. Before the brothers started the company, they were salesmen for so-called lifestyle brands run by clothing conglomerates. Lyndon represented Vans shoes (owned by VF) in British Columbia. Jamie worked for K2 Sports (Jarden), which makes skis, snowboards, and clothing. Over the past decade, they learned how the apparel business functions, but they wanted to get out from under the ridiculous hours of the striving employee.
To create Herschel, they worked backward. They imagined what kind of store the bag would sell in—a small boutique or a hip department store—and who would buy it. They saw their customer as a 15- to 28-year-old who wants clothes that express an allegiance to some sort of style cohort, much in the way footwear works: If you're a preppy, you can show that with your New Balances; if you want to align yourself with skateboarders, you can wear DC. Lyndon considers Herschel essentially a lifestyle-oriented shoe company, which happens to make backpacks.
Knapsacks have taken off among grown-ups in recent years; sales rose 33 percent in 2014, according to retail analyst NPD Group, competing with messenger bags (too geeky), briefcases (too corporate), and canvas totes (too literary) as the go-to among urban commuters. But even as sales increased and luxury brands such as Christian Dior and Tom Ford started making them, "there was no company with style," Lyndon says. He and his brother knew theirs had to be a little more expensive than your typical JanSport (also owned by VF) but not out of reach. "I can't think of anyone quite like Herschel," says Michael Williams, a blogger and consultant who specializes in heritage goods. "It's been an incredible emergence and rise. Now they're like JanSport for millennials."
In keeping with retail trends, the brothers wanted to build a brand that was both nostalgic and modern. In 2009 shoppers were looking toward so-called heritage brands—American companies including Alden Shoe and Woolrich that had survived in a world of corporations outsourcing to Asia. Dozens of century-old brands have since been unearthed by companies like Club Monaco, J.Crew, and even Berkshire Hathaway, which now owns the 114-year-old boot brand Chippewa. But there's a finite supply of U.S. brands left to resurrect.
So marketers started building heritage brands from scratch. The master of this is Mickey Drexler, who started Madewell in 2006, making jeans with the defunct logo of a clothier that had been closed for decades. Soon after, he built up a watch brand—Mougin & Piquard—that became J.Crew's in-house timepiece, stocked among legit old products such as Timex and other faux-old items in the store's line of third-party products, In Good Company.
The Cormack brothers spent three months trying to get the Herschel branding right. In 1906 their great-grandparents left Scotland and settled in Herschel, Saskatchewan. As kids, the brothers used to visit the town. "It's a little town of 23," Lyndon says. "We had a vision of an old general store and asked ourselves what the sign would have looked like."
"The goal," Jamie says of the logo, "was that you would see it, and it would be like you had seen it before. It's all hand-drawn, and there are imperfections. It's on an angle. From the outside of the 'l' in the 'Herschel' to even how the 't' and 'r' work in 'trade,' it's all thought about and hand done." The label doesn't mention Vancouver, because the Cormacks didn't want Herschel to be pigeonholed as a Canadian brand. "We started this to be scalable right from the start," Jamie says.
They had prototypes of their first bags, including the Pop Quiz, sewn in Vancouver—"the worst samples you could ever imagine," Lyndon says. The brothers figured they might be able to sell 6,000, but the minimum order from a factory they found in China was 12,000, so they doubled the order.
In January 2010, the pair took their bags to the Agenda trade show in New York, where apparel manufacturers show products to buyers from stores. They rented a 64-square-foot booth, the smallest available, and stayed up until 1:30 a.m. building shelves. The next morning, a buyer from Urban Outfitters walked right up to them. "She was upset we didn't call," Jamie says. "She said, 'Where are you from? There's no way you haven't done this before.' " Little skate shops such as Dqm in New York and Bodega in Boston bought bags, too. Soon, the brothers had sold out.
Back in Vancouver, Lyndon got an appointment with Nordstrom, one of North America's biggest accounts. The night before the meeting, he was playing hockey, and things got a little chippy, as they say on the rink. Lyndon did something objectionable and got punched in the eye. "I turtled a little bit—which is not normal for me—but finally I got free and got in one pretty good uppercut. My eye was turning yellow already." The next morning, he borrowed some cover-up from his wife, slathered it over his eye, and made his pitch to Nordstrom. The retailer committed to buying some bags, too.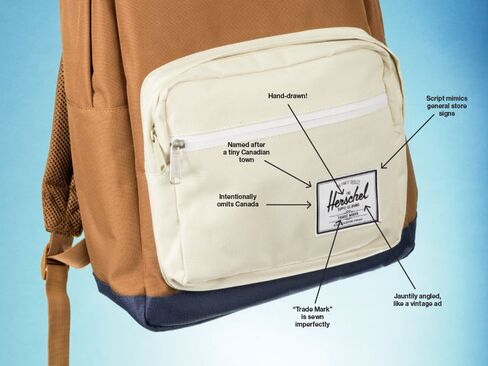 Like North Face jackets and Ugg boots, the backpacks went from nowhere to everywhere, though Herschel didn't have years of struggling in the shadows, building loyalties among niche groups. The brothers succeeded by inventing a product that just looked like it already had a following. Now, says Lyndon, they've arrived. True to their dream, he says, the office is dead by six most nights. (Since the company is private, they won't share revenue figures.)
On a March visit, Lyndon is in his office working on a new campaign and, for inspiration, replaying ads from the 1990s. Across the hall, Jamie sits near a table covered with prototypes. He's preparing for spring 2016, planning the lookbook to showcase the products. The shoot will be on a Mexican resort, and the photographer, Stephen Wilde, wonders if they should go out to an island he's found.
"Let's start on location," says Jamie. He has a gravelly voice and talks so quickly it's mesmerizing. "You're in the jungle. It's beach. It's rock. It's waves crashing on black rock. It's not them holding hands. It's knee deep in the water. It's not coming off as a surf brand. I think we shoot here." He draws a circle on a map with a Sharpie, then pulls up some iPhone shots he took when he was last there. "This building with two pink doors, the cobblestones."
"Lock us into the hotel," he says. "We're going to f---ing crush this, you know what I mean." He glances around sheepishly. "Sorry for the F-bomb."
The conversation turns to Bad Hills Workshop, a newer Herschel line. The company is building out options above and below their original bags, in both price and sensibility, as well as adding wallets and hats. It now makes almost 5,000 different products. The company has no choice but to diversify, because you can't trade on fake authenticity forever. "When we came into the market, the heritage play was more of a thing," Lyndon says. "But we are modern, and we're going to put that into the brand, too."
The brothers have already started selling bags with a stripped-down logo in spare block lettering. Some of them are made of shiny fabrics that resemble waterproof tarpaulin. All black, slightly menacing, they look like the future.
Before it's here, it's on the Bloomberg Terminal.
LEARN MORE