German Bond Selloff Pushes Yield Curve to Steepest in 5 Months
The selloff in longer-dated German government bonds over the past three weeks helped drive the yield difference between two- and 30-year securities to the widest since December.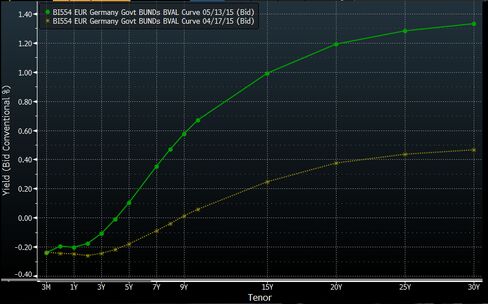 The premium investors demand to hold the longer-maturity bunds instead of the short-dated notes touched 164 basis points on Thursday, the most since Dec. 8 and up from 71 basis points as recently as April 20. Bonds across the euro area swung between gains and losses Thursday after a selloff that's wiped more than $400 billion off the value of global fixed-income markets in about three weeks.
"This reflects an unwind of long positions where investors were moving up the curve for yield enhancement," said Mohit Kumar, head of interest-rate strategy at Credit Agricole SA's corporate and investment banking unit in London. "The curve flattened in a rally and has sold off aggressively."
Germany's 30-year bund yield fell two basis points, or 0.02 percentage point, to 1.38 percent as of the London close. The yield has surged from a record-low 0.435 percent set on April 17. The price of the 2.5 percent security due in August 2046 rose 0.47, or 4.70 euros per 1,000-euro ($1,136) face amount, to 128.29.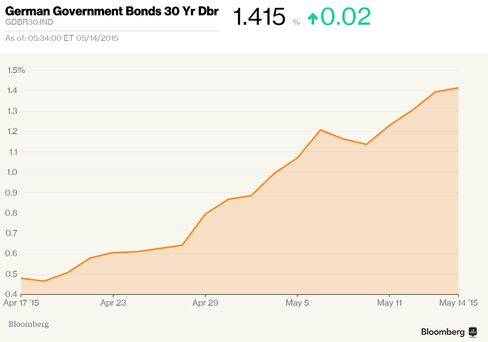 The yield on the nation's two-year notes was little changed at minus 0.182 percent. That on 10-year bunds, the euro area's benchmark sovereign securities, dropped two basis points, or 0.02 percentage point, to 0.71 percent. The yield has climbed from a record-low 0.049 percent on April 17.
Bond Returns
Longer-dated bonds have borne the brunt of the debt selloff. Euro-area government securities due in 10 years and more lost 9.3 percent since the end of March, while those maturing in one to 10 years fell 1.4 percent, according to Bank of America Merrill Lynch indexes.
A steeper yield curve may indicate a lessening of investor concern that the euro region is at risk of deflation, aided by the European Central Bank's bond-purchase program which began in March. Consumer prices in the currency bloc stagnated in the year through April, ending a four-month run of declines, according to data published by the European Union's statistics office in Luxembourg on April 30.
Even as the inflation outlook strengthens, euro-area sovereign securities have tumbled since mid-April in defiance of the ECB's quantitative-easing policy that's soaking up a targeted 60 billion euros ($68 billion) of bonds a month. The average yield climbed to 83 basis points on Wednesday, indexes show. That's almost double its record low of 0.43 percent, reached two months earlier.
Bond Rout
The value of the world's fixed-income markets dropped to $45.22 trillion on Wednesday from $45.51 trillion on April 17, according to a Bank of America Merrill Lynch index. The value fell to as low as $45.04 trillion on May 11.
Spain's 30-year yield has jumped 49 basis points since the end of last month to 2.94 percent, while the yield on similar-maturity Italian debt climbed 47 basis points to 2.98 percent.
ECB President Mario Draghi may try to halt the fixed-income rout, according to Kerry Craig, a London-based global strategist at JPMorgan Asset Management Inc., which manages about $1.7 trillion.
Speaking in Washington Thursday, Draghi said the central bank's non-standard measures have so far proven to be "potent" and that the bond purchases will be implemented in full. He has previously said QE will run through September 2016.
"You just have to look at what the ECB is trying to do," Craig said in an interview on Bloomberg Television's "'On The Move'' with Jonathan Ferro. ''They're trying to drive down yields, they want banks to lend and they want a weaker euro.''
If the bond rout goes ''too far, you'll see the ECB step in again,'' he said.
Before it's here, it's on the Bloomberg Terminal.
LEARN MORE