FedEx Loses Bid to Dismiss Charges Over Online Drug Shipping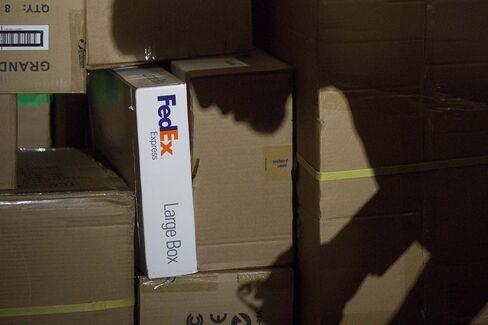 FedEx Corp. can be prosecuted for illegal drugs hidden in its 4 million daily deliveries, a judge ruled.
U.S. District Judge Charles Breyer in San Francisco rejected the company's bid to dismiss charges it conspired with "rogue" online drugstores. If the government wins the case, it may seek almost $1 billion in fines.
Separately, Breyer on Thursday ordered the FBI and other agencies to turn over communications that FedEx says show it has long cooperated with the government's crackdown on companies that are shipping drugs without proper prescriptions.
As a drug-trafficking and money-laundering case heads toward trial, the parcel-shipping service is trying to show it's being punished after doing the right thing.
The company said as far back as 2002, 12 years before it was accused of scheming with "rogue''" online drugstores to deliver controlled substances to dealers and addicts, it was assisting federal agencies with investigations of pill purveyors. FedEx helped the government win convictions of the very companies the shipper is accused of conspiring with, defense lawyer Cris Arguedas said in court Thursday.
The evidence sought by FedEx to show that it was acting in good faith may plant seeds of doubt in the minds of jurors or a judge, said Larry Cote, a former U.S. Drug Enforcement Administration associate counsel.
'Bad Actors'
"If there's information that FedEx can get from the government, or that they have, to demonstrate that it was cooperating with the government to prosecute these bad actors, then it's certainly going to undermine the government's position that FedEx was in fact conspiring with these same bad actors," Cote said in an interview before the hearing.
FedEx and its alleged co-conspirators may face a fine of twice the gains from the illegal conduct, alleged to be at least $820 million. The Memphis, Tennessee-based company and individuals who ran the illicit pharmacies "knowingly and intentionally" schemed to launder more than $630,000 in shipping payments that were derived from drug sales, according to a revised indictment in August.
FedEx previously said "settlement is not an option" in the case. Cote said the company appears willing to fight the charges at trial, now set for February.
The case is U.S. v. FedEx Corp., 14-cr-00380, U.S. District Court, Northern District of California (San Francisco).
Before it's here, it's on the Bloomberg Terminal.
LEARN MORE