Drugmaker's Very Bad Day Doesn't Merit a Single Stock Downgrade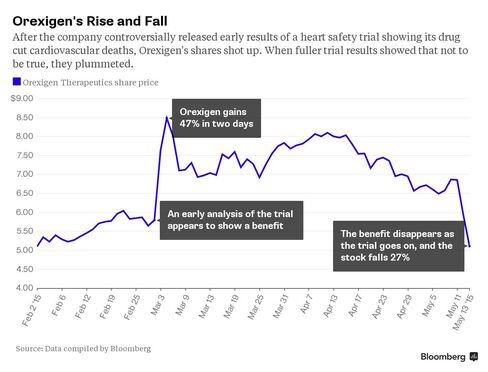 Orexigen Therapeutics Inc., which makes a weight loss drug, is having a terrible week. Despite that, analysts who cover the company are almost all saying "buy."
On Tuesday, early test results that showed the pill improved heart safety were reversed after more data came out. It was harshly criticized by the researcher it hired to run the trial. Its big pharma partner threatened to pull out. And the stock dropped 27 percent in the worst two-day run since 2011.
Yet seven of eight analysts surveyed by Bloomberg recommend buying the stock, and more than half reiterated those calls this week. They project rising sales, call the bad news overblown, and say Orexigen's drug Contrave is still the best. Their price targets range from 59 percent to 239 percent above Orexigen's Wednesday closing price of $5.02.
"Some people sell stocks because they haven't done the math or thought it through," said Charles Duncan, an analyst at Piper Jaffray Cos. "It's called a market inefficiency." Duncan has an "overweight" rating on Orexigen shares and a price target of $17.
Orexigen has been on a roller-coaster ride in the last two months. As a condition of approving Contrave last year, the Food and Drug Administration demanded a large trial to make sure the drug didn't increase the risk of cardiovascular death.
On March 3, the company had surprising news. Based on early data, Contrave didn't cause more heart attacks, and actually appeared to reduce them -- an exceptional result that had the potential to expand the pill's sales.
Big Gains
Over the next two days, the stock gained 47 percent. One downside was that the trial would have to be re-done, since by sharing the early results the company may have compromised the test's integrity, the FDA said. Yet that paled in comparison to a heart benefit and future sales.
Then, on Tuesday, the company's lead investigator on the trial issued a statement saying that the initial heart benefit had vanished. While the drug didn't appear to add risk, said Steve Nissen of the Cleveland Clinic, there wasn't a reduction.
By releasing the early data in March, Nissen said, the company misled investors and patients. The test would have to be redone, at a cost of millions of dollars. And it could mean years longer before the company could establish with certainty that Contrave didn't increase heart risk.
The company denied that it had done anything wrong, and said it followed rules for accessing data from the trial. Takeda Pharmaceutical Inc., which was working with Orexigen on the drug, threatened to pull out, and demanded that Orexigen pay for the full cost of the second trial, which could be as much as $200 million, according to Simos Simeonidis, an analyst with RBC Capital Markets.
An Orexigen spokesman declined to comment.
Nothing Illegal
Simeonidis reiterated his "outperform" rating Tuesday. "Unless people thought they did something illegal -- which they would be sued for, they would go to court, the FTC would investigate them, which I don't think anything like that would happen -- there was a data access plan that was followed by the company," he said.
Orexigen doesn't list any other drugs in its pipeline. Analysts project sales to grow to $322 million by 2018, up from $56 million last year. The company's price-to-sales ratio is 10.6, compared with 12.8 for a basket of similar companies.
Equity analysts tend to be positive. Of 11,976 current ratings on stocks in the Standard & Poor's 500 Index, only 6.7 percent are to sell, compared with 49 percent rated buy and 45 percent rated hold, according to data compiled by Bloomberg.
Four analysts have lowered their price targets for Orexigen, however, though the lowest is still 59 percent above Orexigen's closing price Wednesday.
Obesity Bet
Ultimately, Orexigen's stock is a bet on obesity, said Duncan. Obesity affects more than a third of Americans, according to the Centers for Disease Control and Prevention, and raises the risk of deadly conditions, from heart disease to diabetes.
The biggest concern for Bob Ai, an analyst at WallachBeth Capital LLC who rates Orexigen a buy, is the dispute with Takeda.
"To me, it was emotional, I take it very seriously. When I saw that, it just sort of blew my mind," Ai said. "But at the end of the day, we're interested in making money. This thing will cool down a little bit and I think the stock may rebound."
Matthew Andrews of Wells Fargo & Co., Jessica Fye of JPMorgan Chase & Co. and Jason Butler of JMP Group LLC didn't respond to calls seeking comment. Paul Matteis, an analyst at Leerink Partners LLC, was traveling and unavailable for comment, according to a spokesmen.
The only analyst to rate Orexigen as a sell was an algorithm. Eva Dimensions LLC uses a three-part equation to evaluate stocks and produce a score, which was to "sell."
"Our model indicates that it is expensive," Casey Lea, an analyst at Eva Dimensions, said in an e-mail. "The market is paying for the future."
Before it's here, it's on the Bloomberg Terminal.
LEARN MORE