Christie's Sells $1.4 Billion of Art in Two Auctions in New York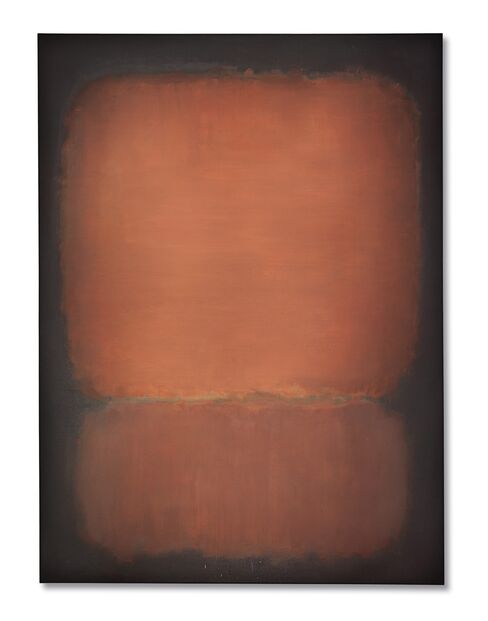 Paintings by Mark Rothko, Andy Warhol and Lucian Freud boosted Christie's second mega-auction in two days, bringing the company's tally so far this week to $1.4 billion.
The auction house surpassed its previous single-week high of $975 million in May 2014. However, this week's tally was boosted by an additional hybrid auction with modern art masterpieces. Christie's had an extra sale last year as well, but it offered lower priced postwar and contemporary art.
On Wednesday evening, Christie's sold $658.5 million of postwar and contemporary art in New York in about two hours, falling short of its high presale estimate and the $745 million it sold at the equivalent sale in May 2014. Eight artist records were set, including those for Freud, Robert Rauschenberg and Robert Ryman. Eight works sold for more than $20 million. Of the 82 lots offered, 10 failed to find buyers.
"It lacked some of the fairy dust of the past couple of seasons," Guy Jennings, managing director of the Fine Art Fund Group in London, said after Wednesday's sale. "Sellers' expectations are very high. Christie's did a very solid, professional job to achieve it. Every time they perform well, the bar gets pushed a little higher."
More wealthy investors from every corner of the world are putting their excess cash into art, according to dealers, advisers and auctioneers. New buyers often start at the top of the market chasing trophy works, they said.
Christie's Wednesday sale had 480 registered bidders from 40 countries. The salesroom was packed with celebrities and the wealthy. Ivanka Trump, James Tomilson Hill, the Blackstone Group LP vice chairman, casino magnate Steve Wynn and jeweler Laurence Graff were in attendance.
Extra Sale
The additional auction of art that spanned the entire 20th century on May 11 tallied $705.9 million. That two-hour sale included Pablo Picasso's painting, "Les Femmes d'Alger (Version ''O'')," which fetched $179.4 million, becoming the most expensive artwork at auction. Alberto Giacometti's bronze sculpture of a pointing man was purchased for $141.3 million.
The top lot on Wednesday, Rothko's smoldering painting "No. 10," fetched $82.9 million. It had been estimated in the region of $45 million by the auction house. At least five bidders competed for the 1958 painting, including American, European and Asian collectors, Christie's said.
"Our buyers have sophistication, knowledge and competitive urge," said Brett Gorvy, Christie's global head of postwar and contemporary art, said after the sale. New clients are "responding very quickly to education," he said, while and the older collectors are "rising to the occasion."
Freud Record
Another highlight was Freud's 1994 painting of a 280-pound naked civil servant named Sue resting on a couch. Estimated at $30 million to $50 million, it sold for $56.2 million, setting an auction record for the artist.
Prices include buyer's commission; estimates don't.
At least three collectors competed for "Benefits Supervisor Resting," including clients of Gorvy and Xin Li, Christie's deputy chairman in Asia. The winner was London-based dealer Pilar Ordovas, who declined to identify her client.
"This is the period when Freud was at his most ambitious," Ordovas said after the sale.
In 2008, "Benefits Supervisor Sleeping," another portrait of Sue, sold for $33.6 million -- the highest price ever at the time for a work by a living artist.
Freud, a British painter who preferred portraits of regular people, died in 2011. Since his death very few major paintings of his have come up for sale, said London- and New York-based dealer Daniella Luxembourg.
"It was a justified price," she said.
Warhol, Bacon
Earlier in the sale, Warhol's "Colored Mona Lisa" also sold for $56.2 million. It had been estimated in the region of $35 million. Francis Bacon's "Portrait of Henrietta Moraes" fetched $47.8 million. Its presale estimate was about $42 million.
Consignors of 49 lots in Wednesday's auction, valued at about $500 million, were guaranteed an undisclosed minimum price regardless of whether the work sells; and in many instances Christie's found a third party to finance the guarantee. Both the Freud and Bacon paintings were guaranteed by third parties, Christie's said.
One of the guaranteed lots was Cy Twombly's "Untitled" painting from his Bolsena series, which fetched $42.7 million, within the estimated range.
At least two lots guaranteed by the auction house didn't find buyers, leaving Christie's as the owner of the unsold works: Warhol's painting "Fragile-Handle with Care," estimated at $7 million to $9 million, and Twombly's untitled 1961 painting, estimated at $4.5 million to $6.5 million.
Wool's 'Hypocrite'
Christopher Wool's 1990 painting spelling "Hypocrite" was another disappointment. Estimated at $15 million to $20 million, the 8-foot-tall aluminum piece failed to sell. At Sotheby's on May 12, Wool's 9-foot-tall 1990 aluminum painting, spelling "Riot," fetched $29.9 million, an auction record for the American artist.
Ryman's white 1980 canvas, "Bridge," fetched $20.6 million, surpassing high estimate of $15 million and setting an auction record for the minimalist painter.
Rauschenberg's 1961 assemblage featuring metal, wood and twine, surged to $18.6 million, three times the presale high estimate. The work was part of the collection of legendary art dealer Ileana Sonnabend and her daughter, Nina Castelli Sundell.
"The prices are crazy," said Miami-based collector Martin Margulies as he left the sale. "The real collectors are not buying that stuff. I was able to build up a collection. Today you can't."
"It's a different world," New York collector Jerome Stern told Margulies.
"I like the old world," Margulies responded.
Before it's here, it's on the Bloomberg Terminal.
LEARN MORE