Cameron Starts Talks on Scottish Power After Divisive Election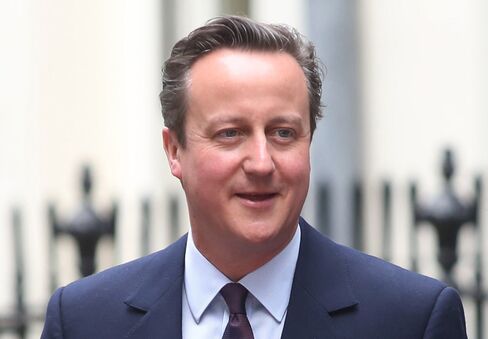 U.K. Prime Minister David Cameron promised to come good on plans to cede more power to Scotland a week after his election victory cemented the political division with England.
Cameron traveled north to meet Scottish National Party leader Nicola Sturgeon on Friday in Edinburgh with a commitment to push a new Scotland Bill through the U.K. Parliament that will make her government in Edinburgh responsible for 60 percent of Scottish spending. It follows an agreement based on the recommendations of the Smith Commission that the SNP insists doesn't go far enough.
"I am here today to underline my commitment to our United Kingdom and Scotland's important place within it," Cameron said in a statement from his office. "That means remaining true to the promise we made to implement the all-party Smith agreement to make Scotland one of the most accountable and powerful devolved parliaments in the world."
Cameron's Conservative Party won a surprise majority in the May 7 election, yet a surge in support for the SNP saw the nationalists take all but three of Scotland's 59 seats in the House of Commons in London, just months after losing a referendum on independence. Another battle over the future of the U.K. looks inevitable.
Sturgeon, who runs the semi-autonomous government in Edinburgh, controlling health, education and justice, said her party will use its new clout in Westminster to press for full control over Scotland's finances. The question is whether she also uses the mandate to put another independence referendum on the agenda for Scottish parliamentary elections in 2016.
SNP Surge
The SNP wants what was promised to Scotland in the run-up to September's vote, which it lost by a margin of 55 percent to 45 percent. As polls a week before suggested the outcome was too close to call, the main U.K. parties backed a pledge by former Prime Minister Gordon Brown for a more federal arrangement.
New powers over the economy and taxation put forward by the government in London in recent months don't reflect the promises to Scottish voters to persuade them to vote against independence, Sturgeon said last week. Her predecessor, Alex Salmond, said that nothing short of home rule would be acceptable.
Since voters chose to retain the three-centuries-old union with England, the SNP has capitalized on a level of support and membership that even surprised its leadership.
Before last week, the SNP had six seats in the House of Commons and its peak was 11 in 1974. Its record result came mainly at the expense of the Labour Party, which lost 40 of its 41 seats and failed to make up the deficit in England. The Conservatives retained their single Scottish district.
Before it's here, it's on the Bloomberg Terminal.
LEARN MORE