Burundian Coup Plotters Held as President Nkurunziza Returns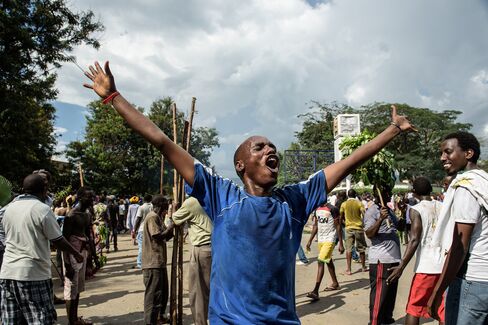 President Pierre Nkurunziza returned to Burundi as a coup announced by his former intelligence chief appeared to fail.
The general who announced the coup on Wednesday, Godefroid Niyombare, has been arrested along with two others involved in the plot, presidential spokesman Willy Nyamitwe said Friday by phone from Bujumbura, the capital. Although he said Nkurunziza would address the nation at 11 a.m. local time, the president had yet to issue a statement almost two hours later.
"All plotters and leaders of the coup have been arrested by the national defense forces, so far three," Nyamitwe said. "People are going to work. People are going to the market. There are police on the street and the army is going back to the barracks."
The coup attempt followed weeks of protests against the ruling party's nomination of Nkurunziza as its candidate in June 26 elections. At least 20 people died in the demonstrations. Opponents said Nkurunziza's bid for re-election would contravene a 15-year-old peace deal that limited presidential terms at two.
Gunshots and explosions rang out in Bujumbura on Thursday as presidential loyalists and supporters of the coup battled for control of the capital.
The flare-up raised fears of a return to conflict in the country, where a 12-year civil war that ended in 2005 left 300,000 people dead, and the possibility of violence spreading in the region.
105,000 Fled
Burundi has the same ethnic Hutu majority and Tutsi minority as neighboring Rwanda, where 800,000 people were killed during a genocide in 1994, and various rebel groups are active in bordering Democratic Republic of Congo.
More than 105,000 people have fled to neighboring countries, scared off by the rising violence, the United Nations Refugee Agency said Friday on its Twitter account. Opposition activists last year accused the ruling party's youth militia, known as the Imbonerakure, of receiving paramilitary training in Congo.
Burundi, about the size of the U.S. state of Maryland, has a $2.7 billion economy and is home to 10.2 million people. It's the continent's seventh-biggest coffee exporter and buyers of its beans include Starbucks Corp. The country also holds 6 percent of the world's nickel reserves, according to the African Development Bank.
Before it's here, it's on the Bloomberg Terminal.
LEARN MORE