Burundi Chaos Shows Anger Against Long-Time Africa Rulers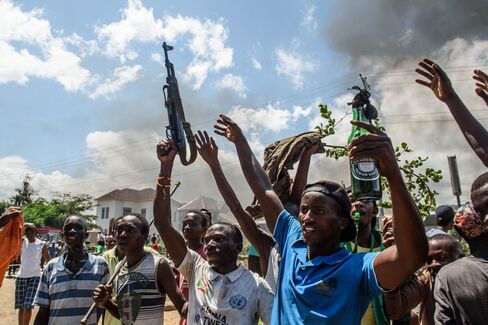 The riots and announcement of a coup that followed Burundian President Pierre Nkurunziza's bid for a third term highlight a rising trend in Africa of public protests against leaders who try to prolong their stay in office.
"People believe if they take to the streets they will be heard," Yolande Bouka, a researcher on conflict prevention at the Johannesburg-based Institute for Security Studies, said by phone. African leaders "are now wary of using force to stifle dissent, as there is an international community watching."
Using social media such as Facebook and Twitter, activists have mobilized against incumbents, as in neighboring Democratic Republic of Congo, where protests in January prompted President Joseph Kabila to withdraw an electoral bill that would have prolonged his term. In Burkina Faso, mass demonstrations forced Blaise Compaore to quit in October after 27 years in power.
At least 20 people have died in weeks of protests that erupted in Burundi on April 26 after the ruling party nominated Nkurunziza to run in next month's elections. Although the Constitutional Court upheld his eligibility, his opponents say his candidacy violates a two-term limit stipulated in peace accords that ended a 12-year civil war in 2005.
It was unclear who held power early on Thursday as gunfire and explosions rocked Bujumbura, the capital. The presidency announced later that day that Nkurunziza, who was in Tanzania for a summit when the attempted coup was announced, had returned to the country and he will deliver a message on Friday.
'African Spring'
The expansion of social media in sub-Saharan Africa has been driven by a growth rate that's second only to developing Asia over the last 10 years, according to the International Monetary Fund, and a youthful population. Of 22 countries in sub-Saharan Africa assessed by the U.S. Census Bureau, 16 have a population where more than 40 percent of people are under 15.
"There is a fear of an Arab Spring-style African spring, as this sets the precedent for other presidents who want to extend their stay in power," Thierry Vircoulon, Central Africa director for the Brussels-based International Crisis Group, said by e-mail from Nairobi, Kenya's capital.
Burundi, about the size of the U.S. state of Maryland, has a $2.7 billion economy and is home to 10.2 million people. It's the continent's seventh-biggest coffee exporter and buyers of its beans include Starbucks Corp. The country also holds 6 percent of the world's nickel reserves, according to the African Development Bank. Kermas Group, a London-based investment company, is developing a mine at Musongati in southeastern Burundi, which ranks as one of the 10 largest known deposits of the metal.
Burundi Refugees
In recent weeks, more than 70,000 people have fled to neighboring countries, scared off by the rising violence, according to the United Nations humanitarian agency.
Among other nations in the Great Lakes region, the Democratic Republic of Congo, Africa's top copper producer, Rwanda and Uganda are all scheduled to hold elections by 2017.
Both Rwandan President Paul Kagame, who's been the effective leader of the country since the end of a genocide in 1994, and Uganda's Yoweri Museveni, the nation's ruler for the past three decades, have indicated they may seek another term.
On May 6, Rwanda's parliament said it received a petition signed by 2 million people calling for a constitutional amendment that would allow Kagame to run for a third term.
Presidential Limits
Kagame said last month he was open to either keeping or relinquishing his post "depending on the interest and future" of the country, though he doesn't support changing the constitution to scrap a cap on terms. Rwanda is set to hold elections in 2017.
In 2005, Ugandan lawmakers removed presidential term limits, allowing candidates to seek re-election until the age of 75. Seventy-year-old Museveni, who's won all four elections held since 1996, told the Associated Press on May 6 that he will consider running again if asked by his ruling National Resistance Movement.
While those two leaders have succeeded in overcoming any opposition to their governments, the growing criticism elsewhere of indefinite rule by parties and leaders is a sign the public in Africa is taking a more active role in politics, said analysts such as Jason Stearns, an author and former head of the UN group of experts on Congo.
A unified opposition in oil-rich Nigeria, which has Africa's biggest economy, ended the 16-year hold on power by the People's Democratic Party when Muhammadu Buhari defeated president Goodluck Jonathan in April elections.
Three years before, artists and civil society groups in Senegal led a successful campaign to vote President Abdoulaye Wade out of power after 12 years in office.
"Presidential term limits are being tested across the continent and what happens in one country will invariably have aftershocks elsewhere," Stearns said by e-mail from New York. "It is becoming harder for leaders to edit their constitutions at will."
Before it's here, it's on the Bloomberg Terminal.
LEARN MORE