BofAML: Three Reasons Why Treasuries Will Avoid Another Taper Tantrum
It's different this time?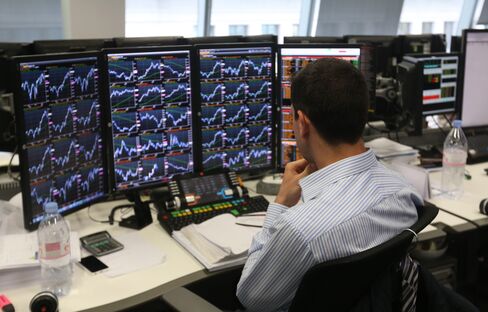 The bloodletting in bond markets may be the final nail in the coffin of a bull market that's run for decades.
U.S. Treasury yields, however, have seen this play before.
On Wednesday, Bank of Montreal chief economist Douglas Porter noted that the timing and magnitude of this year's rise in 10-year U.S. Treasury yields has thus far been eerily similar to the "taper tantrum" of 2013, when then-Federal Reserve Chairman Ben Bernanke warned that the central bank would begin dialing down its bond purchases before the year was out. His comments sparked a sharp selloff in U.S. government debt accompanied by a rise in Treasury yields.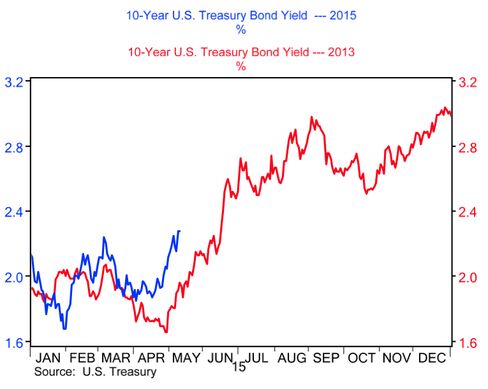 Priya Misra, head of U.S. rates strategy at Bank of America Merrill Lynch, doesn't think a full-fledged repeat of that 140-basis-point move is in the cards, however.
In a note to clients on Thursday, Misra presents three reasons why this time is indeed different:
For a start, expectations of the timing of the Fed's first hike won't be pulled forward by as much. In 2013, Fed officials stressed that tapering was not tightening and that there would be a considerable time between any end of quantitative easing and the initiation of a tightening phase. It took a while for that message to sink in, though: During the four-month-long taper tantrum, market participants brought forward their expected timing of liftoff to 14 months away from 22 months away. "In contrast, this time around the starting point of the hiking cycle has only shortened by one month and with recent weak data, we believe that there is little room for it to move much sooner," Misra writes. "A pinned front end should limit how much the 10y can rise."
Bond managers won't be itching to shed duration. The term premium—that is, the extra compensation an investor demands for holding a bond for a longer period of time—won't rise by as much as it did in 2013, Misra predicts. "The relative stability in the timing of the hiking cycle is one reason why bond funds may not be a big source of duration selling this time," the strategist writes. She observes that bond funds tracking U.S. Treasuries, mortgage-backed securities, and investment-grade debt have seen inflows during this bond selloff.
The market's expectation of how much the Federal Reserve will hike rates during this cycle isn't likely to make a big move higher in the short term. In a sense, the "lower for longer" stance regarding the federal funds rate has shifted toward "lower for the long run," as demographic factors are seen as weighing on potential growth rates. "During this recent rise in rates, the terminal rate has bounced back gradually, but is still low at about 2.5 percent," Misra writes. So long as global growth and inflation expectations remain subdued, there's little impetus for the Fed's target interest rate to meaningfully increase.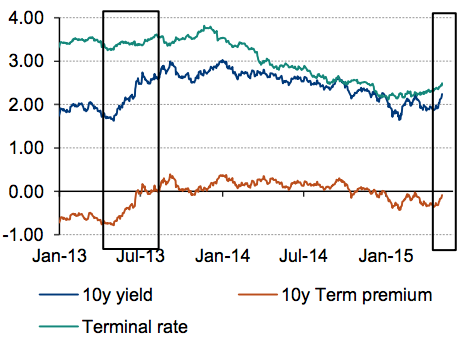 For good measure, Bank of America Merrill Lynch chief technical strategist MacNeil Curry adds that the recent rise in yields looks like a temporary correction, not a major break of trend.
BofAML attributes the recent carnage in U.S. 10-year Treasuries to a rapid rise in global risk premiums stemming from the stunning surge in German bund yields, a shift in investors' positioning, and a particularly heavy calendar for corporate bond sales over the past five weeks. With a major taper tantrum in U.S. Treasuries apparently off the table, however, Misra cautions that a "mini" outburst could still materialize in the market:
But while we think these factors should prevent the sort of disruption we saw in 2013, positioning may be a problem given the low levels of market liquidity. We have discussed before the reasons for the lack of liquidity, which appear structural and can exacerbate price action. In addition ... asset manager positioning may still be long and any capitulation from that investor base can put more selling pressure in the market. However, we believe that without fundamentals supporting the move to higher rates, a move led by positioning capitulation in an illiquid market should ultimately be viewed as a buying opportunity
Before it's here, it's on the Bloomberg Terminal.
LEARN MORE