Ackman's Firm Said to Plan Move to NYC's Dealership Row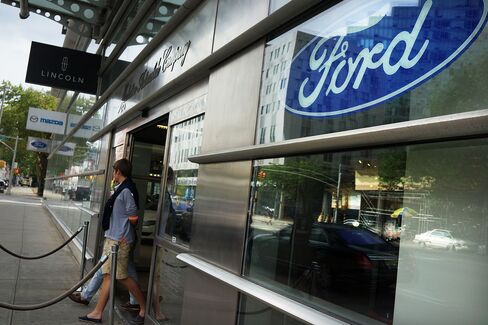 A group including Bill Ackman's Pershing Square Capital Management agreed to buy a Ford dealership building on Manhattan's far west side, where the hedge-fund firm intends to move its headquarters, two people with knowledge of the negotiations said.
The partnership is led by New York-based developer Georgetown Co., with Ackman's firm acting as co-investor and anchor tenant, said the people, who asked not to be named because the deal is private. The purchase means Pershing Square won't move to Boston Properties Inc.'s 250 West 55th St., where in late March it was close to agreeing to a lease, one of the people said.
The Ford property is at 787 11th Ave., between West 54th and West 55th streets, an area known as Dealership Row, with brands such as BMW and Mercedes-Benz. Ford Motor Co. put the 464,000-square-foot (43,000-square-meter), eight-story building on the market earlier this year.
Neither of the people would say what Georgetown or Pershing will pay. Ford was seeking at least $230 million, according to a March 27 story in Crain's New York Business. The Ackman partnership's intent to buy the building was reported earlier today in the New York Post.
Francis McGill, a Pershing Square spokesman, said he couldn't comment, as did David Goldin, a spokesman for Georgetown Group with the public relations firm Goldin Solutions. Elizabeth Weigandt, a Ford spokeswoman, said she couldn't immediately respond to a request for comment. Arista Joyner, a spokeswoman for Boston Properties, didn't immediately respond.
Pershing Expanding
Pershing Square was close to a deal to take about 49,000 square feet on the 34th and 35th floors at 250 West 55th St., a 988,000-square-foot skyscraper completed in 2013, a person with knowledge of the talks said in March. The deal also would have included space in the basement for a gym.
The firm has been searching for space to expand from the 31,000 square feet it has at 888 Seventh Ave. The hedge fund was the most successful in generating earnings for its clients last year, according to estimates by London-based LCH Investments NV.
Georgetown is known for building the Frank Gehry-designed headquarters of IAC/InterActive Corp. near Manhattan's Chelsea waterfront.
Before it's here, it's on the Bloomberg Terminal.
LEARN MORE