A $150 Billion Income Windfall Has Disappeared Under the Mattress
Where did the oil savings go?
One of the oft-repeated tropes during the bear market in oil last year was that lower fuel costs would serve as a "tax cut for the consumer" that would boost spending elsewhere.
It certainly made sense. Why wouldn't American consumers spend the hard-earned money they saved at the pump on some new clothes, or some new gadgets, or maybe a healthy indulgence like a Bloomin' Onion or two?
The stock market sure seemed to agree. Retailers are up 10 percent so far this year, the most among 24 industries. Netflix Inc. (yes, they're considered a retailer), Amazon.com Inc., Expedia Inc., Gamestop Corp., O'Reilly Automotive Inc. and Urban Outfitters Inc. are all up more than 13 percent.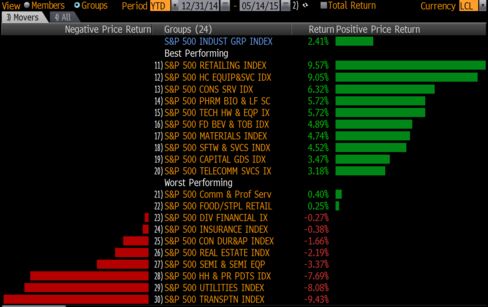 And yet a funny thing seems to have happened to all that fuel savings on the way to the mall: It disappeared. While some of the companies mentioned above have shown strong sales growth, results are out from 66 of 84 companies in the Standard & Poor's 500 Index that rely on discretionary consumer spending and sales for the group are up just 0.5 percent. They have trailed analysts' estimates by 1.7 percent.
"Oil prices remain more than 40% below the highs reached in mid-2014, which our economists equate to a roughly $150 billion 'tax cut' to consumers," Goldman Sachs strategist David Kostin and colleagues wrote in a report this morning. "However, most consumers have yet to increase spending despite this income windfall."
Goldman's assessment comes in part from reviewing earnings-season conference calls, and some of the quotes they pulled out are revealing.
For example, from the head of the nation's biggest mall landlord, Simon Property Group Inc.'s David Simon:
"We're still dealing with a cautious consumer, it's safe to say, and it's volatile," he said. "The patterns of the consumer are tougher to predict right now. Confidence is getting better, but there is still a lot of debt being reduced."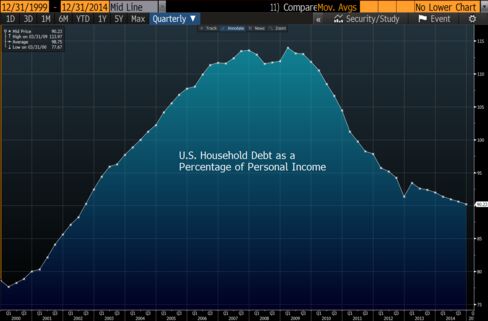 Speaking of debt, here is what Discover Financial Services Chief Executive Officer David W. Nelms said on his call:
"What is maybe a little surprising to me so far is I might have expected some of that increase in discretionary spending," he said. "And I really didn't see that during the quarter. We saw retailers broadly not have great sales."
"I guess the other question is what are they doing with the money?" Nelms asked. "It seems to be an increase in savings rate."
The U.S. personal savings rate has increased a bit lately, reaching a more than two-year high of 5.7 percent in February yet about three percentage points below its long-term average.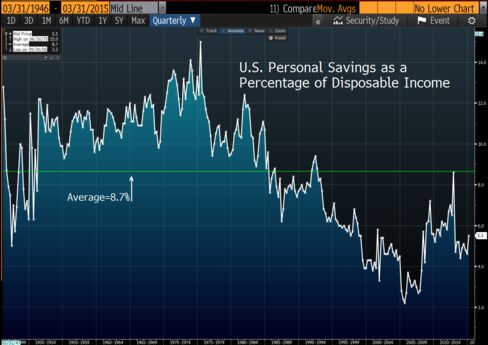 So, as unlikely as it seems, the fickle U.S. consumer these days seems to have a greater appetite for paying down debt and adding to their savings than splurging on things like skinny jeans and fatty foods. And so the mystery of the disappearing gas savings may be solved, just as gas prices are on the rise again.
Before it's here, it's on the Bloomberg Terminal.
LEARN MORE