Ukraine Says Minsk Deal Best Option Despite 83 Army Deaths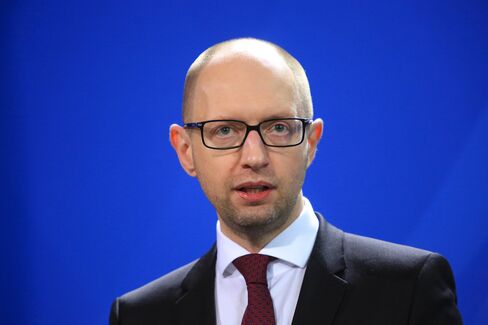 Ukraine sees the Minsk cease-fire agreement as the only option for the future even after rebels killed 83 of its soldiers and wounded hundreds more since the deal was signed in February, Prime Minister Arseniy Yatsenyuk said.
"Minsk is on the table," the premier told reporters in Paris on Wednesday. "It's not the best option, but we don't have another one."
More than 6,100 people have died and a million people have fled their homes in fighting between Ukrainian government forces and pro-Russian separatists that has sparked Europe's biggest geopolitical confrontation since the Cold War. Russia denies involvement in the conflict as alleged by Ukraine, the U.S. and the European Union. The first face-to-face meeting in two years between U.S. Secretary of State John Kerry and Russian President Vladimir Putin took place on Tuesday.
Kerry, speaking to reporters at a NATO meeting in Antalya, Turkey on Wednesday, said there's strong agreement among all alliance members that "this is a critical moment for action by Russia, by separatists, to live up to the Minsk agreement."
German Chancellor Angela Merkel, speaking in Berlin after meeting with Ukrainian President Petro Poroshenko on Wednesday, said more needed to be done to bring an end to the conflict.
'Push Forward'
"We're not where we want to be" on the crisis in Ukraine, she said. "We want to push things forward in the so-called Normandy format. It's laborious; it's slow."
Yatsenyuk urged a "real" pullback of Russian forces from Ukraine, saying his administration estimates there are 10,000 Russian and 30,000 Russian-trained soldiers in the country's war-torn east.
Ukraine said pro-Russian rebels wounded 10 of its soldiers in skirmishes in the past 24 hours, Andriy Lysenko, a military spokesman, said in Kiev on Wednesday. Separatists were using weapons that were banned under the accord signed in Minsk, Belarus, he said.
Rebels in the self-proclaimed Donetsk and Luhansk people's republics said Ukraine's constitution should include a new section setting out a special status for these regions, rebel-controlled DAN news service reported on Wednesday.
Before it's here, it's on the Bloomberg Terminal.
LEARN MORE