The Secret Air Force Space Drone Heads Back Into Orbit
This time, NASA gets some space in the craft to test materials against temperature extremes, debris, and atomic oxygen
A classified Air Force space drone is returning to orbit again, and this time NASA will use the flight to see how 100 or so "materials of interest" hold up in the murderous environment of space.
Space stresses materials with temperature extremes, debris, micrometeoroids, direct sunlight, and atomic oxygen and can erode many of the paints, polymers, and composites that NASA and private space companies use as protective coatings on their craft. Such research becomes only more critical as the agency contemplates longer, deep-space explorations, such as a mission to Mars in the 2030s. NASA now has some space in the 29-foot-long Air Force drone to carry out the testing—which involves samples about the size of a quarter and extends research that began in 2001—for possible use in future spacecraft.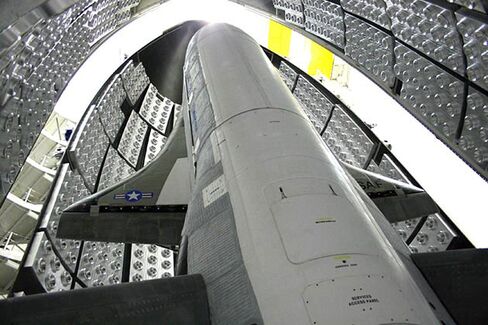 The X-37B Orbital Test Vehicle is an autonomous spacecraft, about 20 percent of the size of the retired Space Shuttle, that can remain in orbit for extended periods. Over the first three missions, it spent 1,367 days, or nearly four years, in space, 33 days more than the Space Shuttle logged over 135 missions. The Air Force has progressively extended the length of each flight; the last one stretched to 674 days before the craft landed in mid-October at Vandenberg Air Force Base in California. The fourth mission is scheduled to launch May 20 aboard an Atlas V rocket from Cape Canaveral, Fla., weather permitting.
"With the demonstrated success of the first three missions, we're able to shift our focus from initial checkouts of the vehicle to testing of experimental payloads," Randy Walden, director of the Air Force Rapid Capabilities Office, said in a statement.
"The materials flown in space are potential candidates to replace obsolescent materials with environmentally friendly options," NASA said. Some coatings used to dissipate static charges, which had been exposed on earlier space station missions, have been used on the Mars Curiosity rover and on SpaceX's Dragon capsule. Besides the materials research, the Air Force plans to test an experimental propulsion system.
That's all for now. It's a secret space drone.
Before it's here, it's on the Bloomberg Terminal.
LEARN MORE