Tencent Shares Climb as Smartphone Games Drive Record Profit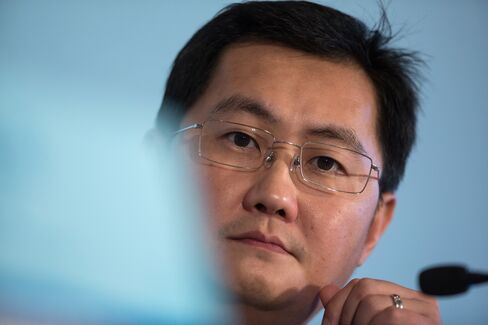 Tencent Holdings Ltd. climbed to a two-week high in Hong Kong trading after demand for smartphone games lifted profit to a record and investors were buoyed by the company's plans to boost mobile-ad revenue.
Shares of Asia's second-largest Internet company rose 2.9 percent to HK$161.30, the highest close since April 29. Net income climbed 7 percent to 6.88 billion yuan ($1.1 billion) in the March quarter, the Shenzhen-based company said Wednesday.
Chairman Ma Huateng's $5.8 billion deal spree last year boosted investments in games, online shopping and travel services to compete with larger Alibaba Group Holding Ltd. After adding NBA broadcasts and Hollywood content, the billionaire is experimenting with selling ads on messaging platforms QQ and WeChat's "Moments" section, a Facebook-like feature where users post photos and status updates.
"Advertiser and user feedback from advertising on WeChat Moments has been very encouraging," HSBC Holdings Plc analysts led by Hong Kong-based Chi Tsang wrote in a note to clients Thursday. "Management seems comfortable in ramping this new business at a steady trend."
Tsang projects WeChat Moments ad revenue will grow to 4.4 billion yuan in 2016 from an estimated 1.9 billion yuan this year.
Excluding e-commerce, which is now part of a venture with JD.com Inc., Tencent's revenue for the quarter surged 40 percent to 22.2 billion yuan.
"In Weixin Moments a limited number of brand advertisers ran ads to help us establish advertising case studies," Chief Strategy Officer James Mitchell said during an earnings call Wednesday, referring to WeChat. "The results so far are encouraging and we will progressively expand the number of advertisers, range of ad formats and our targeting mechanisms."
Gaming Revenue
Mobile online gaming revenue surged 82 percent to 4.4 billion yuan, spurred by titles including Infinity Blade Saga and Carrot Fantasy 3. That helped total online sales jump 28 percent in the quarter, the company said.
"On mobile games, they came out pretty strong and solid; advertising revenue was impressive, especially on the mobile side," said John Choi, an analyst at Daiwa Securities Group Inc. in Hong Kong. "The two key metrics that people were looking at were mobile game and mobile advertising."
Tencent is testing standardized formats for advertisers to create ads faster and scale the business, President Martin Lau said on the earnings call.
China's online gaming market is projected to expand to 176 billion yuan by 2017, from 133 billion yuan this year, according to IResearch, a Shanghai-based Internet consultant.
Revenue from the Value Added Service unit, which includes online games and messaging, rose 29 percent to 18.6 billion yuan.
WeChat, QQ
WeChat had 549 million monthly active users and the mobile version of QQ had 603 million users at the end of the quarter. Tencent is helping make money from instant messaging by adding payment services and making it easier to access e-commerce.
Online advertising sales more than doubled to 2.7 billion yuan in the quarter, the company said.
Ma is on track to invest even more this year, with the company already agreeing to spend $3.3 billion on acquisitions, according to data compiled by Bloomberg. Deals include an agreement last month to take a 15 percent stake in Glu Mobile Inc., the San Francisco-based developer of mobile games, including one based on reality-show celebrity Kim Kardashian.
Tencent bought streaming rights for NBA games, and Hollywood content, such as music and TV shows from Sony Corp., Time Warner Inc.'s HBO and Twenty-First Century Fox Inc.
Tencent is counting on its message platforms to attract third-party developers and advertising agencies that can use them to connect directly with potential customers.
QQ, WeChat and the Tencent app store have attracted 2.4 million third-party programs, Chief Operating Officer Mark Ren said in October.
Before it's here, it's on the Bloomberg Terminal.
LEARN MORE