U.S. retail sales again proved to be a disappointment. Instead of rising by the 0.2 percent forecast by economists, sales were little changed in April from March, according to data released Wednesday by the Commerce Department. The flat reading was all the more surprising because it came against a background of an improving jobs market, rising household incomes and lower gasoline prices.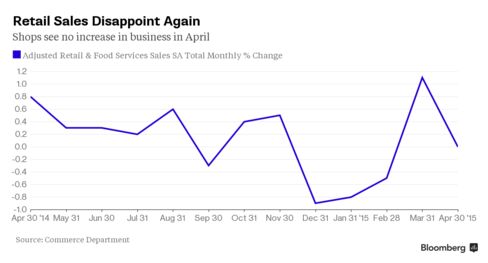 In a note to clients, Ted Wieseman of Morgan Stanley pointed to a possible explanation for some of last month's weakness: a surge in household payments to the federal government before the April 15 deadline for filing individual tax returns. Americans forked over $44 billion more in taxes during this year's filing season than they did in 2014, according to the Congressional Budget Office. Income-tax refunds, meanwhile, were little changed from a year ago, at $202 billion.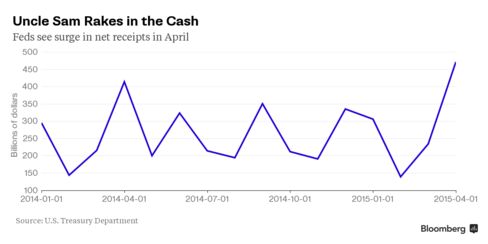 Wieseman said in an interview that the increased tax burden wasn't the biggest reason for last month's lackluster sales. Consumers just aren't confident enough in their job and income prospects to go out and splurge at the shops, he said. But having to hand over a big chunk of cash to Uncle Sam in April undoubtedly didn't help.
For more on the global economy, check out Benchmark:
Before it's here, it's on the Bloomberg Terminal.
LEARN MORE