Maersk Profit Misses Estimates as Container Line Loses Share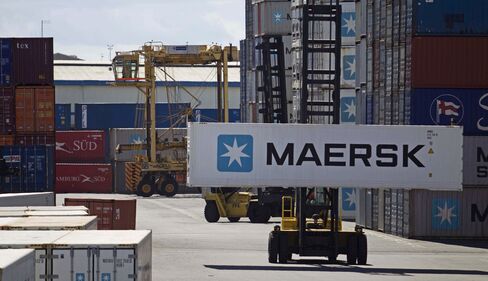 A.P. Moeller-Maersk A/S, Denmark's biggest company, reported first-quarter profit that missed analyst estimates after its shipping line lost market share.
Maersk Line, the world's largest container shipper, reported a 57 percent jump in first-quarter net operating profit after tax to $714 million, missing the $783 million estimate in a survey conducted by SME Direkt.
Maersk Line, which transports about 15 percent of the world's manufactured goods, said gains from lower fuel costs were dented by a decline in freight rates and volumes. The container industry has since 2009 suffered from over-capacity and freight rate volatility after a slowdown in global trade coincided with a vessel building boom.
The first-quarter numbers are "indicating significant pressure on utilization," Frode Moerkedal, an analyst at Platou Markets in Oslo, said in a note. "We would have assumed Maersk Line would 'win' the price war in the container market so the weak volumes are worrying, in our view."
Maersk shares fell as much as 3.2 percent, the most in a month. The stock declined 2.6 percent to 13,220 kroner at 9:33 a.m. in Copenhagen.
Challenging Market
Maersk's container line had "challenging market conditions and a less than satisfactory development in volumes and vessel utilization," the Copenhagen-based company said in a statement on Wednesday. The "strategy remains to grow with the market and also to ensure satisfactory vessel utilization."
Average freight rates declined 5.1 percent in the quarter and Maersk Line's volumes decreased 1.6 percent as the company lost share in a market that grew about 1 percent globally.
"We believe carriers need to address the low rates soon, or else estimates need to be reduced," Platou's Moerkedal, who has a neutral recommendation on the shares, said.
The parent company's earnings before interest, tax depreciation and amortization fell 15 percent to $2.57 billion, missing the average $2.7 billion estimate in a Bloomberg survey of seven analysts.
Maersk's second-largest unit, its oil and gas producer, reported a 40 percent plunge in first-quarter net operating profit after tax to $208 million.
Before it's here, it's on the Bloomberg Terminal.
LEARN MORE