Fed Bailouts, Goldman Commodities Business Targeted in Bill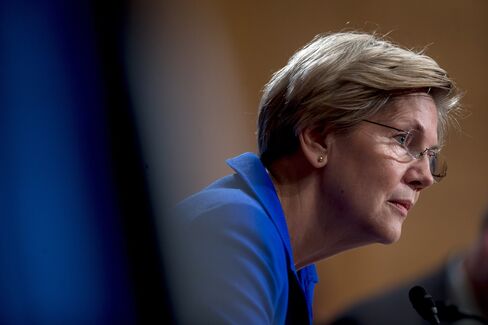 Senators Elizabeth Warren and David Vitter introduced legislation to limit the Federal Reserve's emergency-lending powers, adding impetus to congressional efforts to rein in the central bank.
The Bailout Prevention Act seeks to ensure that the Fed lends only to banks that are solvent and charges a "penalty" interest rate, according to a statement Wednesday from Warren, a Democrat, and Vitter, a Republican.
The bill would also close a legislative loophole that allows Goldman Sachs Group Inc. and Morgan Stanley to own commodities such as oil and coal, activities that regulators have said pose excessive risks.
"If another financial crisis happened tomorrow -– and that's still a real risk -– nobody doubts that megabanks would be calling on the federal government to bail them out again," Vitter, of Louisiana, said in the statement. "Our legislation makes common sense reforms to the Fed's emergency lending powers to protect taxpayers."
Warren and Vitter have found common ground in their conviction that the Fed went too far in bailing out financial firms during the 2008 crisis. Their proposal comes a day after Alabama Senator Richard Shelby, chairman of the Senate Banking Committee, unveiled a bill to toughen congressional oversight of the Fed, increase transparency and ease the regulatory burden on dozens of banks.
Risky Behavior
The Warren-Vitter proposal seeks to ensure that any emergency lending programs set up by the central bank are broad-based and designed to prevent a wide financial collapse, rather than to rescue individual firms that get into trouble through risky behavior.
The bill would require the Fed to certify a borrower's solvency, based on analysis of assets and liabilities over the preceding four months. The Fed would also have to charge emergency borrowers an interest rate at least 5 percentage points higher than the government's borrowing costs when selling U.S. Treasuries.
Fed spokesman Eric Kollig declined to comment.
Congress reined in the Fed's emergency lending powers in the Dodd-Frank Act of 2010. The central bank still hasn't completed rules detailing how it will implement those changes, and Fed officials have made clear they favor retaining as much flexibility as possible to contain future crises.
1999 Exemption
Warren, from Massachusetts, and Vitter are also seeking to end a 1999 legal exemption that allows Morgan Stanley and Goldman Sachs to continue their commodity businesses.
The Fed is working on a rule to restrict Wall Street ownership of commodities. During a congressional hearing in March, Fed Governor Daniel Tarullo questioned whether Goldman Sachs and Morgan Stanley should be allowed to own physical commodities.
The banks are allowed "to engage in the extraction, transportation of potentially highly combustible materials with substantial risks associated with them," Tarullo told the Senate Banking Committee. Such operations appear to "breach the wall between banking and commerce."
Both Goldman Sachs and Morgan Stanley have sold physical commodities operations in recent months as lawmaker and regulator pressure intensified.
Oil Unit
Morgan Stanley said Monday it had agreed to sell its oil-merchanting business to Castleton Commodities International LLC. Castleton will pay more than $1 billion for the unit, people briefed on the discussions said.
Spokesmen for the banks, both based in New York, declined to comment Wednesday on Warren and Vitter's commodities proposal.
In November, Goldman Sachs said that by owning commodities, it can "serve as a bridge between producers on the one hand and consumers and investors on the other, whose interests and exposures offset each other but do not perfectly match."
A Senate investigative panel in November released a report asserting that Goldman Sachs and Morgan Stanley had used ownership of metal warehouses, oil tankers and other commodities businesses to gain unfair trading advantages through non-public information. Ownership also increases the possibility that industrial accidents will spur taxpayer bailouts, according to the report by Senate Permanent Subcommittee on Investigations.
Before it's here, it's on the Bloomberg Terminal.
LEARN MORE