Greece Back in Recession as Bailout Impasse Drains Economy
Greece's economy fell back into recession in the first quarter, raising pressure on the government to reach an agreement with creditors over the next bailout payment.
Gross domestic product contracted 0.2 percent in the three months through March after shrinking 0.4 percent in the previous period, the European Union's statistics office in Luxembourg said Wednesday. The median estimate in a Bloomberg survey was for a 0.5 percent drop.
"Greek GDP numbers are not disastrous, but the more timely indicators deteriorated much more rapidly since March," said Michael Michaelides, a fixed-income strategist at Royal Bank of Scotland Group Plc in London. "So we would expect the full costs of the impasse to be reflected in the second-quarter numbers."
The contracting economy increases the measures Prime Minister Alexis Tsipras needs to take to meet conditions set by euro-region governments and the International Monetary Fund. Greece's government will have to raise at least 3 billion euros ($3.4 billion) to meet the minimum budget targets acceptable by creditors, an official with knowledge of the discussions said.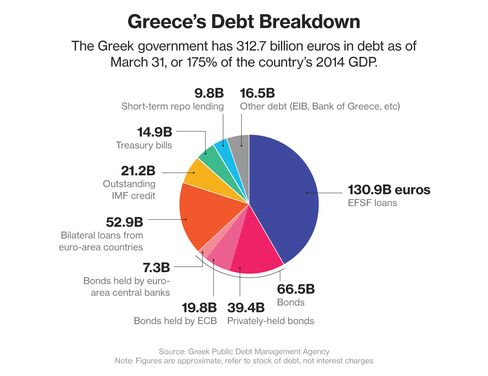 Greece has enough cash to make it through "a couple of weeks," Finance Minister Yanis Varoufakis said after a meeting of euro-area finance ministers this week. The nation paid back about 750 million euros to the IMF by drawing on a holding account at the fund, a Greek official said. The government has also raided municipal coffers to pay salaries and pensions.
'Huge Cost'
Greece is asking for an additional Eurogroup meeting by the end of May to disburse funds because of the cash crunch, a government official said.
Reaching an accord will take time because of the need to find a balance with the Greek government's plans, European Central Bank Executive Board Member Benoit Coeure said in response to questions in the French parliament on Wednesday. The ECB's exposure to Greece through liquidity support to the country's banks now stands at about 115 billion euros, he said.
"I'm sorry to say that this huge cost for the economy is the basic negotiating weapon of the other side," Administrative Reform Minister George Katrougalos said in an interview. "They bring time limits to reach a deal to a brink, as a negotiating tactic. This is not proper behavior among partners."
Far Apart
Greek stocks and bonds rose, extending gains after the ECB decided yesterday to maintain its assistance to Greek banks. The benchmark Athens Stock Exchange gaining 1.3 percent at 2:20 p.m. local time. Yields on 10-year notes fell 25 basis points to 10.65 percent.
The fiscal measures needed to generate 3 billion euros would bring the primary budget surplus in 2015 to just over 1 percent of GDP, a target Greek Interior Minister Nikos Voutsis said is acceptable.
Budget cuts aren't the only thorny issue in the negotiations over the disbursement of the next emergency loans tranche for the cash-strapped economy. Differences of opinion remain on several major reforms that are really needed to get Greece back on track, Eurogroup Chairman Jeroen Dijsselbloem said in an interview with Dutch TV broadcaster NOS.
The retirement age, pension cuts, privatizations and the government's intention to reinstate collective bargaining restrictions in the labor market are all areas where Greece and and its creditors remain far apart, the official said.
Greece's economy expanded 0.8 percent in 2014 after six years of contraction wiped out about a quarter of the nation's output. The European Commission last week cut its forecast for Greek GDP growth this year to 0.5 percent from a previous forecast of 2.5 percent.
Before it's here, it's on the Bloomberg Terminal.
LEARN MORE