French Economy Beats Forecasts With Fastest Growth Since 2013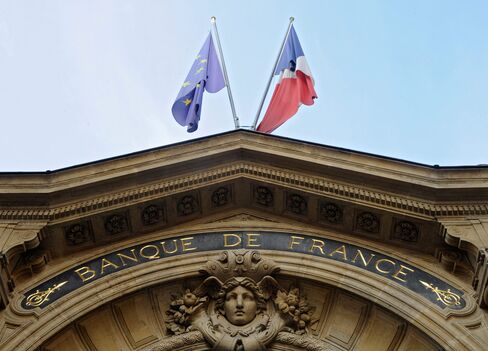 French economic growth accelerated more than economists forecast in the first quarter as lower oil prices and a weaker euro helped propel a recovery across the euro area.
Gross domestic product rose 0.6 percent after stagnating in the previous three months, the country's statistics office in Paris said Tuesday. Economists had forecast a 0.4 percent gain, according to a Bloomberg News survey. Euro-region growth probably quickened to 0.4 percent, economists said before a report due later.
France's performance -- the best in almost two years -- may mark the start of a more sustained revival after three years of sluggish growth. The European Union and International Monetary Fund both see expansion of more than 1 percent this year, more than twice the annual pace recorded since President Francois Hollande came to power in 2012.
"No one should get too excited about the first quarter on its own," said Francois Cabau, an economist at Barclays Plc in London. "The second quarter won't be as strong and may even disappoint but that doesn't mean there isn't a real improvement happening. Full-year growth should be much better than anything we've seen recently and that's a good thing."
From a year earlier, France's economy grew 0.7 percent, the statistics office said.
In Germany, GDP probably rose 0.5 percent in the first quarter after a 0.7 percent increase in the last three months of 2014, according to a survey of economists. That report us due at 8 a.m. before Eurostat publishes the euro-area data in Luxembourg at 11 a.m.
In addition to the boost from oil and a weaker euro, the 19-nation economy is benefiting from new stimulus from the European Central Bank. The ECB began buying government bonds in March as part of a 1.1 trillion-euro stimulus package aimed at reviving growth and combating a deflation risk.
"The economic situation and the short-term outlook for the euro area are currently brighter than they have been for several years," ECB President Mario Draghi said on April 17.
The European Commission forecasts that the euro-area economy will grow 1.5 percent this year and 1.9 percent in 2016. France is seen expanding 1.1 percent and 1.7 percent, while Germany, the region's largest economy, will outperform the region with 1.9 percent and 2 percent.
Before it's here, it's on the Bloomberg Terminal.
LEARN MORE