Fitbit IPO Rides on Persuading You to Dust Off Your Wristband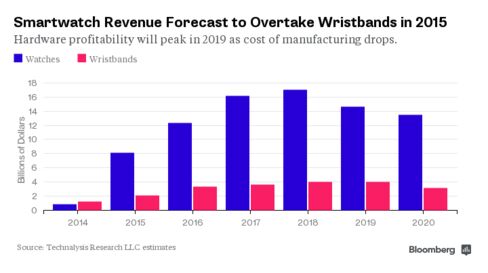 The exercise bike has become a clothes hanger, and the dumbbells now serve as doorstops. It turns out that just purchasing exercise equipment isn't the same as committing to a fitness routine, a problem that's now dogging wearable-device makers.
Companies like Fitbit Inc., which is planning an initial public offering, are making a big bet that they can keep their products from ending up gathering dust in desk drawers. Keeping the devices active is crucial to their plans to gather user data for corporate wellness programs and other services.
A third of smartwatch and activity-tracker owners abandon their device after six months of use, according to a survey of 1,700 consumers by consulting firm Endeavour Partners in July 2014.
Fitbit, which claims to be the biggest wearable-device maker by market share, hasn't fared much better. In documents filed last week for an initial public offering, the San Francisco-based company said it had 9.5 million "paid active users" as of March 31 after selling 20.8 million devices since 2011.
The user total included anyone who has logged 100 steps on a tracker or taken one measurement on Fitbit's Aria scale in the past three months, as well as subscribers to its premium service. The figure is a fuzzy proxy for loyal customers -- some consumers may have replaced older models with new ones, and the measure would include newcomers who bought a tracker since January and walked around with it for a few minutes. A single active user may also have multiple devices -- a Fitbit Flex wristband and an Aria scale, for example.
Wearing Out
Some Fitbit users have found they can use smartphone apps to count steps instead of having to wear a wristband. For others, the novelty just wore out. Catherine Toth Fox bought her Fitbit Charge, which sells for $129.95, in January and was done with it after a month.
"I stopped using it when I figured out how much activity it took me to hit 10,000 steps," the Honolulu freelance writer, 40, said in an e-mail. "I realized very quickly that I was already reaching that goal just by my normal daily activities, so there was no need to have a device to tell me that anymore." She gave the Fitbit to her mother, who uses it daily. Her husband, on the other hand, has never taken his out of the box.
Keeping users engaged will matter even more as Fitbit increases its offerings to employers. The device maker's corporate wellness program lets companies buy Fitbits for their workers and monitor their health via a dashboard. For companies that are self-insured, encouraging employees to exercise more can help reduce the firm's health bill.
Building Relationships
"We intend to increase our focus on building relationships with employers and wellness providers," Fitbit said in the filing. While the dashboard is currently being provided at no cost for the first year to its corporate clients, Fitbit estimates a selling price of $20,000 for future new customers, the company said.
Korina Buhler, a spokeswoman for Fitbit at Olson, declined to comment. The company filed a prospectus last week with a $100 million placeholder for the amount it seeks to raise. A Fitbit IPO would be among the first for the wearable-technology market.
"Fitbit probably has a few more years for hardware growth, but longer-term, that profitability in hardware will be a challenge," said Bob O'Donnell, an independent analyst and founder of Technalysis Research LLC. "It's more important for them to build up a renewable service business where people are paying on a monthly or annual basis for a service which analyzes their data."
Subscription Revenue
Fitbit faces increased competition by the day, not just from sports companies like Nike Inc. but also tech giants like Apple Inc., which introduced a smartwatch in April. Smartwatches may have an edge over Fitbit, since consumers can get the benefits of health tracking along with non-health-related features like e-mail notifications.
"You want to be able to generate as much revenue as possible from a single customer" through sales of subscriptions or future products, said Liz Dickinson, chief executive officer of competitor Mio, which sells heart-rate trackers aimed at serious athletes. "If they stop using the device, you lose contact with them and you can't generate subscription revenue."
Revenue from services will become increasingly important for wearable-device makers as the cost of manufacturing hardware falls, flooding the market with cheaper gadgets, O'Donnell said. He estimates smartwatch revenue will overtake wristbands starting in 2015 and the wristband market will probably peak in 2019.
Renewable Service
Ultimately, employers may be the best at helping users stick to the bracelets with the help of incentives like discounts on health premiums. Manulife Financial Corp.'s John Hancock Life Insurance started giving its policyholders free Fitbits in April, promising discounts in annual premiums if they meet certain health goals.
"The bottom line is, Fitbit has a near-term opportunity to sell bracelets," O'Donnell said, "but in the long term they will need to work into new business models with insurers and companies."
Before it's here, it's on the Bloomberg Terminal.
LEARN MORE