Dow Transports Seen Struggling With Weight of Higher Inventories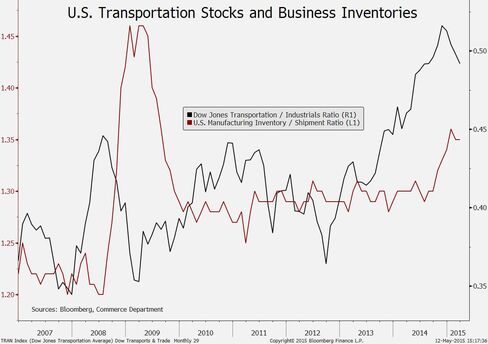 Transportation stocks may need some time to regain their past standing as U.S. market leaders if history is any indication, according to Sean Darby, Jefferies Group Inc.'s chief global equity strategist.
The attached chart shows how Darby drew his conclusion, presented in a report two days ago. He compared a ratio of the Dow Jones transportation and industrial averages with a ratio of manufacturing inventories to shipments, as compiled by the Commerce Department.
After rising for four consecutive months, the economic gauge peaked in January at 1.36. The reading was the highest since August 2009. In February and March, the ratio was 1.35. The transportation-stock indicator peaked in November after surging 42 percent since September 2012.
"Inventories matter! It could take some time for the transports to rally," wrote Darby, based in Hong Kong. The strategist added that the industry group needed two years to rebound in relative terms after the ratio of stockpiles to shipments rose as high as 1.46 in 2009.
Lower oil prices will do little to bolster transportation shares, the report said. Crude oil costs about 40 percent less than it did a year earlier, though the price has climbed about 40 percent from this year's low in New York trading.
Darby cited two other concerns related to U.S. stocks: the effect of wage increases on companies' income and the potential for slower economic growth to depress capital spending. Average hourly earnings rose 2.2 percent in April from a year earlier, while the economy expanded at a 0.2 percent pace last quarter.
Before it's here, it's on the Bloomberg Terminal.
LEARN MORE